Google Internet Revolutions – Internet Marketing Certificate And Course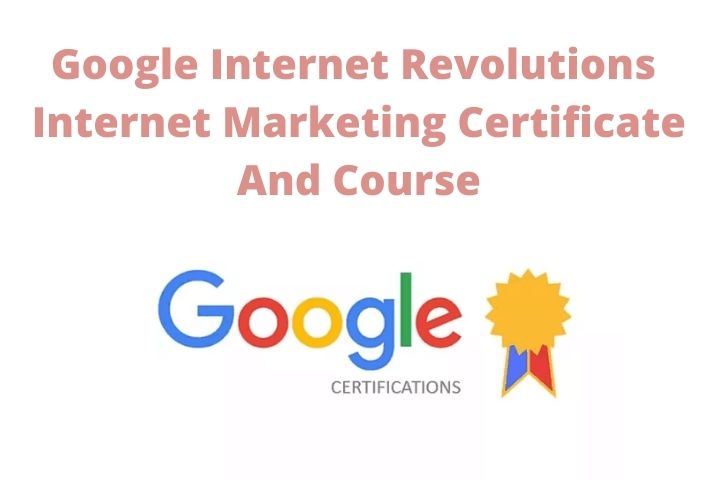 Internet marketing is an area of ​​the market that has been developing very dynamically in recent years. During the prevailing epidemic, due to the multiplicity of activities that have moved to the online sphere, you can see increased activities of Internet marketing specialists that intensify sales and traffic on the website, blog, fan page, and other communication channels with potential recipients. In this text, we explain whether it is worth training in this area and what, therefore, Google can offer.
Google internet revolutions – what is it?
It is about free projects, courses that allow you to gain knowledge in various thematic areas related to the activity on the Internet. The project is planned in five basic steps:
Set your goals;

Learn from professionals;

Test your knowledge;

Track your progress;

Keep going!
The training is to help you run a online business  and successfully develop your company with the support of professionals. Google provides courses on 25 topics, including one – Internet Marketing Basics – is certified training.
Basics of Internet Marketing
This course consists of 26 modules and is scheduled for 40 hours. On the website learndigital.withgoogle.com, we can read that completing it allows for obtaining accreditation of the Interactive Advertising Bureau (IAB), which certainly sounds tempting for practitioners in this industry. Learning mainly consists of following the beginner's video tutorials and doing hands-on exercises in each module.
Is it worth having a Google certificate?
The creators of the course indicate that it is a widely recognized certificate that provides important information for a potential employer on mastering the basic issues of internet marketing. Of course, Google encourages you to include the certificate in your CV and LinkedIn profile, which is also a form of promotion for the internet hegemon.
Each possibility of certifying one's competencies is a kind of confirmation of the skills and knowledge acquired; therefore, it is certainly recommended to have certificates. Without it, the potential employer would have to take the candidate's word for it or check his knowledge on a given topic in the form of a recruitment assignment. However, having a certificate in a free online course, even if Google brands it, is not a clear guarantee of getting a good job. Therefore, it is worth having such a document, but you should also bear in mind that success also depends on many other factors, such as, for example, competition.
Also Read : How To Care For Potential Customers With The Automated Facebook Messenger Chatbots?