Big Data 2020 Trends So That The Future Does Not Catch You By Surprise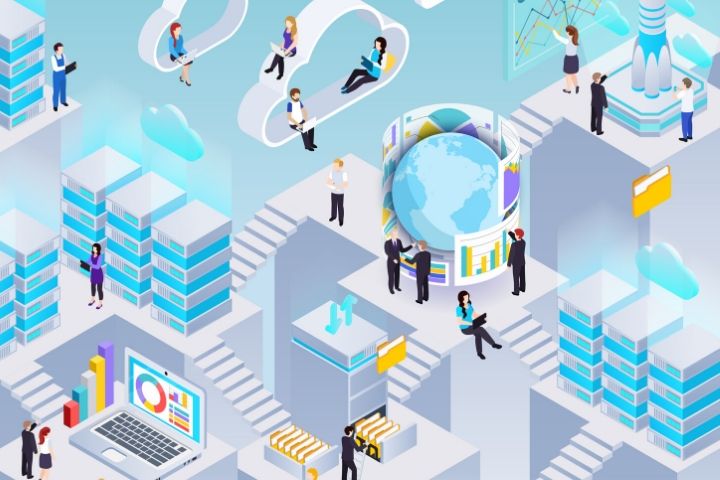 Big Data Trends, did you know that today's society is capable of producing more data in 2 days more than centuries of history? Almost without realizing it, we produce hundreds of data daily, just browsing the Internet. If you don't want the future to catch you off guard, pay attention to the following Big Data Trends and analytics 2020  and succeed!
Big Data, Small Data, or data analysis, has carved a niche in many trades until it becomes a fundamental tool in our daily lives. But do we really know how to face all the challenges of Big Data and data analysis?You can learn more about Big Data by checking out ProjectPro Big Data Projects.
Undoubtedly 2019 has been a great year for Big Data  and will continue its development during 2020, new technologies have allowed the use of tools and strategies in this area to be consolidated, and we can see how Big Data Analytics is another practice of Business Intelligence and a differential value of the competition.
Big Data Trends And Analytics 2020
Before starting, I want to highlight a phrase from the Director of IoT and Digital Transformation at Cisco Spain, Antonio Conde, to understand the magnitude of value that Big Data has: "Data is 'the new Technology,' they are becoming a key part of society and economy."  
This is so because the data is the new value to be managed by organizations of all kinds. Companies are looking for capabilities in terms of data capture, storage, and processing, and those that succeed will have achieved an advantage over their competition, which is called Analytical Advantage. Those companies that achieve the desired analytical advantages will be able to say, then yes, that they are true Data-Driven companies, companies focused on the value of the data.
Evolution Of Augmented Analytics
Many experts agree that 2020 will be the year in which Big Data Trends will achieve considerable technological evolution, but we still have a long way to go to see what Big Data Trends can do for us, and it will undoubtedly be a change in the economic and social context.
With augmented analytics, we will see the appearance of more important knowledge or changes that will help businesses optimize decision-making.
Augmented analytics makes insights available to all company profiles, and is justified in terms of the need for expert data analysis profiles and the limited talent available. So while reducing the reliance on analytics, data science, and machine learning experts, it will require increased data literacy across the organization.
By 2020, augmented analytics will be a dominant driver of new technology tools that make the data analytics process itself simple and accessible to much of an organization's profiles. These tools will try to democratize data science and machine learning to an entire organization.
 We will undoubtedly see how the rise of digital technologies, lower-cost data storage, high-performance hardware, and embedded software will fuel change in both large and small businesses.
The companies adopting the IA part of their business processes will be increased, and it is logical, since the advantages of this technology are at many different levels, for example, at the level of processes, creating new models, business, customer interaction, and even interaction between the own people of an organization.
Also Read : What Is 5G Technology And How Will It Change Our Lives?
Machine Learning
Machine Learning or automatic learning is another trend in 2020 that will continue to grow and will do its usefulness for all types of companies and sectors.
When we talk about Machine Learning, we refer to algorithms' ability to learn and improve their actions autonomously. The more we execute the algorithm, the better it will meet its objectives. Ted Dunning, MapR's Chief Applications Architect, says in this regard: "More and more companies are treating computing in terms of data streams rather than data that is only processed and stored in a database. These data streams capture key events and reflect the business structure. A unified data fabric will be the foundation for building these large-scale flow systems. "
Increased Data Management
With data growing exponentially, organizations need to automate data administration and management tasks. Vendors are adding machine learning and artificial intelligence (AI) to make self-configured data management processes so data professionals can focus on higher-value tasks.
This trend is affecting all categories of enterprise data management, including data quality, metadata management, master data management, data integration, and databases.
Data Culture
Organizations do not yet have a data culture. We are not used to working on a database yet. This year we will see how organizations will be more concerned with informing workers to understand the data culture.
In this regard, you cannot create a data-driven company but invest first in instilling the data culture among the teams. You must learn to generate data, but you have not yet learned to use it in decision making.
Hybrid Clouds Will Rise Like Foam.
Hybrid clouds have become very popular in the past year, as a tool that enables companies to store data securely. During 2020, the use of this technology is expected to increase significantly among companies. The benefits of hybrid clouds are that you can transfer back and forth between local (private) clouds and IaaaS (public) clouds, allowing for greater flexibility.
There will be data that will need to be uploaded to a public cloud, but nevertheless, there will be others that can be managed in local environments without having to be transferred, with the problems that this generates in terms of security and protection of the same.
Data Storytelling
This will influence both personal and business decisions. In addition, the Data Storytelling profile may gain importance next year.
The data, if they do not tell stories, are useless. The data must count, if a piece of information doesn't tell you anything, you have to look for the story behind it, what can it do for.
Increased Use Of Virtual Assistants
2020 promises to bring considerable changes in the way we interact with companies through messaging apps like WhatsApp. But, above all, it poses the settlement of voice interfaces thanks to the growth in the use of smart speakers and virtual assistants it has experienced throughout 2019. 
Chatbot Chocolate CEO Angel Hernandez affirms that "we are experiencing first-hand this increase in interest in settlement of both text and voice interfaces by companies."
For this reason, the expert believes, the rise of conversational technology becomes one of the indisputable trends of the next year, both in-text interfaces such as WhatsApp and voice interfaces with virtual assistants.
"These channels allow us to interact with our current and potential consumers in a simple and automated way, or with mixed service models in the case of WhatsApp," adds Hernandez.
In this sense, and after a "timid introduction" of the WhatsApp Business API in 2019 and the arrival of the first cases of use of well-known brands such as Iberia or Atletico de Madrid, 2020 will be the first year in which the use of this channel between corporate's. At the same time, Amazon, with Alexa, followed by Google with Google Assistant, will continue to surprise companies and consumers by offering more and more services through this new channel in a phase of rapid adoption by users.
Natural Language Processing (NLP) And Conversational Analysis
Just like search interfaces like Google made the Internet accessible to everyday consumers, NLPs provide an easier way to ask questions about data and get more accurate information. Conversational analytics takes the concept of NLP one step further by allowing such questions to be asked and answered verbally rather than through text.
According to Gartner, "By 2021 NLP and conversational analytics will drive the adoption of analytics and business intelligence from 35% of employees to more than 50%, including new classes of users."
The voice seems to succeed in establishing itself as the main channel of interaction between machines and people, and in a way, it makes perfect sense. Technology must be transparent to people in its use, and therefore it must be natural, and what is more natural than using the voice to communicate? This technology is in very immature phases, but it is only a matter of time.
Big Data Ecosystem
The need for companies to perform data analysis will foster technological innovation (IT) within it while integrating into the Big Data ecosystem. These advances will be mandatory for all companies that do not want to be left behind in the market. Therefore, the Business Intelligence model will begin to be a reality from large multinationals to small startups.
The Big Data ecosystem offers great machine learning capabilities that will include exhaustive calculation, artificial intelligence, and graphical algorithms. Another benefit of this ecosystem is that they will unify analytical technologies; therefore, there will be better compatibility of data types, and sources and any programming language can read them.
Big Data Trends Claims In 2020
In 2020 we can see all the advances that Big Data Trends has promised us this year. One of the priorities for companies is data and resource manegement integrating multiple base technologies.
Artificial Intelligence has been created to facilitate decision making through complex algorithms that will give multiple answers about the decisions to be made.
Data Strategy is the name of the strategy that companies are adopting to start their actions on data. You have to start with the strategy and not with the data, that is, you have to have a vision of the future about what companies want to become, and you have to ask yourself the right questions, about which we have no answers and that the data can help get them.
Another business demand is that Big Data be able to anticipate the needs and demands of consumers. Data collection opens up a wide range of possibilities in personalizing the product or service to the customer.
And finally, the Blockchain that is rapidly evolving, this technology offers a great capacity for transaction and record-keeping that can serve as the basis for other potential applications such as health, media distribution, Public Administration, and supply chain.
Big Data,The Most Demanded Profile
Currently, the professional expert in Big Data Trends has become one of the most demanding professional profiles, but it is also one of the most difficult to cover. This is because they represent 10.11% of the total, according to the EPYCE 2017 report: Most demanded Positions and Competencies. On the other hand, we also find difficulties for companies to fill the positions of computer engineers. These represent 5.85% and exceed the Big Data on-demand profile.
The study has also revealed that, alongside the demand for Big Data profiles, there are also factory operators with certain digital capabilities. Commercial profiles follow these; however, companies have trouble finding digital commercial profiles, and they will be increasingly in demand.
But the report not only includes the profiles most in-demand in Big Data  but also the skills most in-demand by companies. These are; initiative, teamwork ability, and flexibility. With regard to more senior profiles, those in charge of recruiting and selecting talent are looking for people with leadership skills. Another fundamental capacity and which we cannot forget are languages, especially English
Also Read : Big Data And Cloud Computing As A Starting Point In The Business Model