The Best Drones Of 2021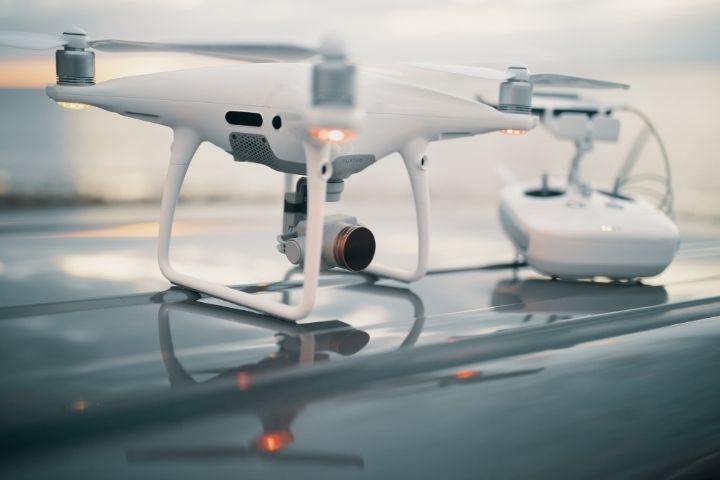 Suppose there is one thing that technology has shown us. In that case, it is that it is capable of fulfilling many of our wildest fantasies, video games with their epic adventures, transportation that allows us to reach any place at an impressive speed, communications to be able to converse with a friend or family anywhere in the world, the list are very long. The human being always wanted to see the world from another perspective broader than that allowed by his eyes, to be able to feel the world as something more straightforward, and to capture its beauty that overwhelms us. Drones are a breakthrough that managed to awaken the dreams of an entire generation. To find the best drones of 2020, we will look for their fundamental aspects, quality of cameras, sensors, stability, autonomy, and compatible accessories, always without forgetting their value for money.
DJI Mavic Air 2
: Among the Best Drones the
best in Quality-Portability
The good
Long duration battery

Excellent 4K 60 FPS footage

Easy to set up and use, even for beginners
The bad
The camera is not the best in low light
The successor to the popular Mavic Air is a very tempting option for travel enthusiasts due to its size and simplicity and its compatibility with accessories that make it easy to use for new drone pilots. For a very competitive price and incredible features for its size, the DJI Mavic Air 2 earns the position for its superior quality-portability ratio with a weight of 570gr.
This device has a maximum flight time of 34 minutes, in addition to an impressive autonomy for this type of product. As for cameras, it is capable of recording videos in 4K with image rates of up to 60fps and a three-axis stabilizer; in addition, it reaches a frequency of 240fps in the case of a FullHD resolution, with an optical sensor capable of capturing 12MP and conversion to 48MP digitally. In photographs, it reaches the impressive 8K resolution with Hyper Lapse technology.
The maximum altitude concerning sea level that it reaches is 5,000 m and a maximum speed of 65Km / h in Sport mode. The signal range is 6km, which allows it to cover a wide margin of maneuver.
Due to its cutting-edge characteristics in a reduced size that meets the weight standards for the circulation of drones in those regulated places and due to its easy maneuverability, it is a highly recommended option.
DJI Phantom 4 Pro V2.0
: Among the Best Drones the
best in camera
The good
Quieter than most of its competitors

Compatible with DJI Goggles
The bad
Video transmission may be faulty

Very expensive
It is essential to understand that each product is aimed at a specific market, as is the case with the DJI Phantom 4 Pro V2.0, where we find a tempting offer for professionals in the photography and film sector, not to mention that it is a luxury for personal events.
With its 20MP camera and a precise mechanical shutter, it captures images with sufficient quality for creative work. It allows 4K video recording at 60fps and shooting in burst shooting mode at 14fps.
As for sensors, the Flight Autonomy system it has includes double rear vision sensors and infrared sensors for a total of  5 directions of obstacle detection and a 4-way anti-collision system.
Its autonomy is 30 minutes with speeds of up to 72 km / h in Sport mode, and its transmission system is OcuSync which allows a range of 7km and a virtual reality experience with DJI Goggles.
They make this drone a first-class option with a very high price but with avant-garde features for the professional sector and good compatibility with extra accessories that improve its user experience.
DJI Mavic 2 Pro
: Among the Best Drones the
best in Ease of use
The good
Class-leading photo and video performance

Easy to fly
The bad
If your goal is to have a very complete and easy-to-fly drone with first-class features, but that is portable, and you don't care about the price, this is your best option.
The DJI Mavic 2 Pro has a camera with a 20MP Hasselblad sensor that allows recording videos at 4K resolution with HDR included and video recording in real-time at 1080p with the addition of OcuSync 2.0 that allows a range of 8Km.
In terms of sensors, it has omnidirectional obstacle detection with 12MP CMOS sensors. Its weight is 907gr, and it reaches a maximum height of 6000m and autonomy of 31 minutes. The maximum speed is 72Km / h in Sport mode.
It is a product with remarkable Ease of use and acceptable compatibility as well as having the latest technology for real-time connection. A very good option for experienced pilots
Ruko F11 Pro Drone 4K Quadcopter
: Among the Best Drones the
best in Price and Autonomy
The good
Built-in GPS

Homecoming function
The bad
For those beginners who want to enter the world of drones without spending a fortune, this is your best option. The Ruko F11 Pro is an inexpensive device that has the capacity for an extra battery that allows it to maintain an incredible autonomy of 60min, something remarkable compared to the competition.
It has a camera with a rotation angle of 90 degrees, capable of recording videos in 4K, a little more modest than its competition but acceptable for its price. It should be noted that it takes advantage of the GPS functionality to program destinations and improves its stability with this sensor.
It is portable and complies with the manufacturing standard of all other options that also do not compete with its price.
DJI Mavic Air
: Among the Best Drones the
best in portability
The good
Compact package

32MP sensor, 4K video

8GB of storage
The bad
The optional VR accessory is of poor quality
The DJI company known for the quality of the drones they produce has created this product with one main advantage in mind, portability.
Although its size is not as small as a mini-drone when deployed, without deploying, it does not exceed the height or thickness of an average smartphone, and it is incredibly light at 430gr, allowing it to be carried even in your pocket.
Its spherical camera is 32MP that is capable of recording 4K videos with a high image frequency and panoramic images with the possibility of recording in slow motion; As for the integrated camera sensor, it is 12MP with a 3-axis stabilizer.
It is compatible with the DJI Fly application that gives you exciting options such as destination programming. With an autonomy of 21 minutes, it is not so outstanding in this regard, but it is reasonable for its size; it reaches heights of up to 5000m and a speed of 68Km / h in Sport mode. The range of its connectivity is 4Km.
Although it is a controversial option for the plastic that is used for almost its entire body and its price, it brilliantly fulfills its objective, allowing the user to take it to places in the simplest possible way.
DJI Mavic Mini
: Among the Best Drones the
best in Quality-Price
The good
Economic

It does not require FAA registration

Decent battery life and flight time
The bad
No 4K video

You can't shoot RAW
Price is always a very important aspect when deciding on a certain range of products, but for those who do not want to sacrifice a lot of quality to still maintain a good value for money, here is the DJI Mavic Mini.
Its camera is capable of recording videos at 2.7K. Although it is lower in resolution than the recording capacity of its older brother, it maintains a good quality with the three-axis stabilizer.
It maintains the autonomy of 30 minutes, so it does not sacrifice on battery but on sensors to avoid obstacles, which can be a risk for novice users.
A criticized feature of this product is its short connection distance of 2Km and its maximum flight height of 120 meters.
Sacrificing some aspects but with premium build materials and state-of-the-art performance, the DJI Mavic Mini is a premium offering for the more modest enthusiast.
Also Read : The Best Internet Search Engines or Search Engines