Teaser Advertising: How To Intrigue Customers?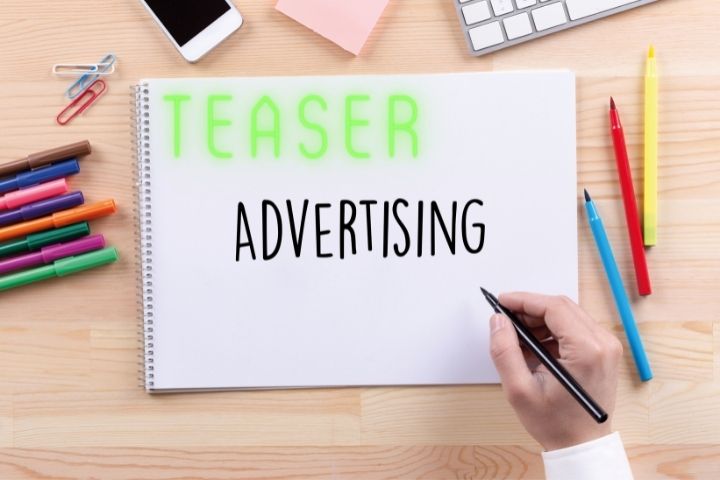 Teaser Advertising: How can today's realities make an impression on the recipient and stay in their memory for a longer time? What to do to really get his attention?
Every time you reach for your TV remote control, you get angry—one channel, the other channel … Advertising spots everywhere. Or you go down the street – you pass one billboard, another. Even while watching your favorite series or movie in the cinema, you cannot break away from the incessant commercials – you see that the protagonist smears the bread with selected margarine or drinks one or another juice.
According to statistical research, a Pole has contact with about five thousand advertisements every day. It is impossible to remember even a fraction of them – the average citizen's attention will be drawn to no more than 250 messages, of which only 50 will get through to his consciousness (1). How to make an impression on the recipient and gain his attention in this reality? Is teaser advertising the answer to this challenge?
What is teaser advertising?
The word tease in English means to irritate, irritate. In the first phase, teaser advertising aims to destroy the potential customer's peace, arouse his interest, attract attention effectively – making him unable to take his eyes off the presented content or forget about it for a long time. Only in the next stage, the consumer learns what the offered product actually is.
This idea is unusual because the time between the first and the second part can be up to several months. A well-executed teaser campaign can stimulate the imagination of the consumer and the media. What's more, it initiates discussions between recipients, conducted not only face to face, but above all, in the virtual world – on Facebook, YouTube, or Instagram.
Who came up with it?
Teaser advertising does not have a long history – the first example in literature is usually a campaign in France carried out in the 1980s. Billboards showing the model wearing only a swimsuit and smiling tempting appeared on the streets of France at that time. The sign next to her read: I'll take the top off in a week. As announced, the woman was shown the next week without a bra, and this time she announced: I will take the bottom off in a week. It caused quite a sensation, especially among male representatives, but their dissatisfaction turned the model away. As it turned out, the beauty advertised the cream. The whole country talked about the famous announcement, and the new form of promotion began to gain more and more popularity. Why is it profitable to make customers wait? And is it always there?
Why is the teaser working?
It does not impose the content.
In the case of a typical form of promotion, the product is imposed on the client less (the so-called product placement in movies or series) or more intrusively (TV advertising, billboards). Teaser differs from these strategies primarily because it does not seem to impose its content – its purpose in phase one is not to present the product but to interest the audience. This allows you to intrigue potential consumers and establish a relationship with them. Research by sociologists shows that advertisements that impose brand names immediately are less effective than advertisements that do so at a later stage.
Attracts attention
Thanks to teasers, the recipients are interested and fascinated, and they are waiting anxiously for the next stage of promotion.
It arouses publicity
Rumors on social networks and internet forums, passing news from mouth to mouth – it is known that nothing works better than publicity, especially publicity from customers!
It allows you to establish a bond with your audience.
Customers can feel as if the advertisement was directed to each of them and – most importantly – to each of them separately.
The power of social networks
According to CBOS data, in 2015, almost half of adult Poles used social networking sites. This is good news for everyone who wants to promote a product because it means that the costs of this operation nowadays do not require as high financial outlays as in the case of a typical advertisement broadcast on television during breaks between television programs.
An example that such a strategy could be successful is Taylor Swift. The singer decided to use the power of Instagram influencer. In October 2014, she promised to publish daily excerpts from the 1989 album, which was to appear in stores two weeks later. Each of her posts was very personal – the photos showed the words and the pictures taken by the singer. Besides, they were handwritten on the plane or other places where the star was located. Thanks to this, each fan had the opportunity to feel that he was in almost direct contact with her. Her first post gained over 535,000 likes, and the next ones ranged from 360,000 to 600,000. Moreover, Instagram users shared these posts on Twitter, thanks to which they enjoyed even more tremendous popularity. The album debuted at number one on the Billboard 200 and sold 1,287,000 in its first week of sales – in the United States alone.
A special form of promotion
Nowadays, a teaser campaign is an effective way of popularizing products. Every day we come into contact with so many advertisements that we are not able to remember them all, so the promotion must have a really special form. However, it must be remembered that creating an interesting and effective teaser is not easy. Besides, intriguing the recipient and encouraging him to make a one-off purchase is one thing, but building his loyalty is another matter.
Also Read : How Does Performance Marketing Work?