New AirPods, Great Fit And Sound, MagSafe Is Justice.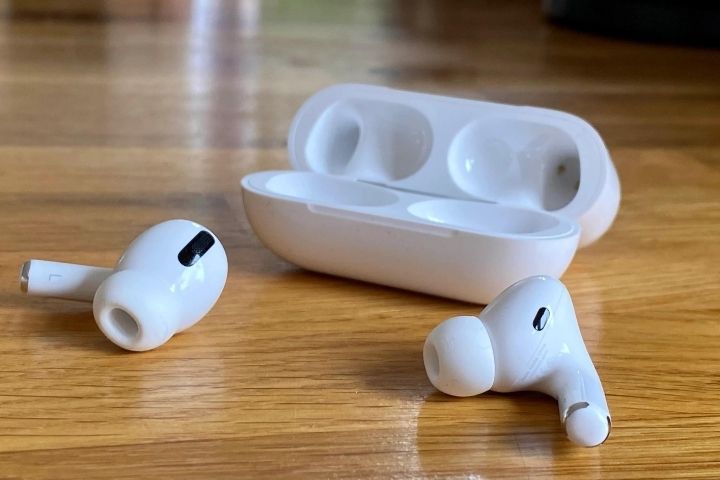 The new AirPods, the third generation, has also been redesigned. Please review below! Our reporter has examined the usability and highly evaluated it, but what about the fact that everyone buys a new one?
The first AirPods release was in 2016, after which wireless charging was added, but the basic design hasn't changed for five years. I wouldn't have updated it for a long time because it was selling well, but now the newly designed 3rd generation AirPods (from now on referred to as the new AirPods) has been released. It may lack some features compared to earphones in the same price range, but the new AirPods are still a great experience when paired with other Apple devices.
Apple isn't the first to release a fully wireless earphone (Bragi's The Dash is said to be the originator ), but Apple was the first to have a wireless earphone in a portable charging case. In addition, the W1 chip (and then the H1 chip) provides a stress-free connection that is typical of traditional wireless connections. AirPods have transformed wireless earphones from a niche product full of flaws to a user-friendly gadget, selling in millions and exploding a huge market.
And now, what the new AirPods are doing is not developing new markets like the first generation but brushing up existing super popular products. So if you have an old AirPods, should you buy a new one? The answer isn't because it's in a case but on a case-by-case basis.
Apple AirPods (3rd generation 2021 model)
what are these?: Apple's first major upgrade to AirPods that incorporates the features and design elements of AirPods Pro
Price: 179 dollars 
What We Like: Great sound (without eartips), no tiredness after hours of wear, quick access to Siri, seamless connection with H1 tip
What We don't like: Some people don't fit because they don't have noise-canceling or eartips
AirPods Pro flavored design.
A quick glance at where the design of the new AirPods comes from. It looks and feels almost the same as the AirPods Pro, with the difference being that there are no replaceable silicon chips.
2nd Generation AirPods (Left), New AirPods (Center), AirPods Pro without Silicon Chip (Right)
The new AirPods are a bit smaller than the AirPods Pro. Probably because there is no active noise canceling hardware, and the battery can be small accordingly.
The new AirPods (right) have a more curved design than the 2nd generation AirPods (left) and sit better on your ears.
The new AirPods have a shorter stem (the "udon" part of "ear to udon") than the old AirPods, and the pressure-sensitive sensor of the stem now handles the playback operation that was previously done with taps. But for whatever reason, I'm not too fond of the specs of touching and operating wireless earphones, especially if they aren't reinforced with wings or silicone chips. If you touch it, it will tend to come off. The operation of the new AirPods stem is working well, which is convenient when you are in a place where you can not operate with voice, but for me, it is easier to skip songs and adjust the volume by asking Siri. Being able to work with Siri continues to be a huge benefit for iPhone users.
The new AirPods (right) have a shorter stem and better weight distribution, making them harder to drop than the 2nd generation AirPods.
I tend to get rid of the old AirPods, so I stopped using them and waited for the AirPods Pro to come out. On the other hand, the new AirPods are much harder to come off than before, and there is no problem with light exercise such as walking. Actually, the new AirPods are a little heavier, but the short stem and clean design make the angle of the main speaker better, and I feel that the weight distribution has also improved. However, when it comes to using it for jogging or squash-intensive games, I think that AirPods Pro will be used in such cases, but anyway, the fit has improved considerably compared to the old AirPods.
Charging case comparison. New AirPods (top), old AirPods (bottom left), AirPods Pro (bottom right)
The charging case for the new AirPods is similar to the AirPods Pro case, it's not that wide, but it's a bit taller than the AirPods Pro. With the same smooth finish as a traditional AirPods case, you can slip it in and out of your pocket.
MagSafe for everything
I confess here, but what was it used for when I first heard that the AirPods case is compatible with MagSafe? I thought. Do you stick it to the back of your iPhone? Do you put it on the refrigerator so that you don't lose it? When.
The MagSafe charging case snaps into a good position on the charging pad and won't come off even with a slight impact. When I actually used it, MagSafe support for the new AirPods was very effective. Instead of sticking a card case to the charging case, you can put it on a MagSafe compatible wireless charging pad like the iPhone 12 or 13, and it will stick to the proper position of the charging coil. And it stays firmly attached to the pad, and even if you accidentally hit it, it will hardly come off. Considering the small size of the wireless receiver in the AirPods case, it makes a lot of sense. So the AirPods Pro case is also MagSafe compatible. I personally think that magnets should no longer be added to the Qi standard so that all wireless charging devices will snap together.
Lightning cable required for fastest charging of new AirPods case
The new AirPods case can be charged by wire, but it requires a Lightning cable. Why isn't it USB-C now in 2021?
The sound quality is also quite good.
AirPods have made wireless earphones popular, but I've always been disappointed that the sound quality isn't deep. I dare say that I don't like the sound quality of AirPods in the first and second generations. But the new AirPods are my favorite sound rather than the AirPods Pro, and I'm surprised myself. That said, the answer is no if it sounds even better than the AirPods Pro (I don't think it's possible unless you adjust the angle of the sound with a silicon chip), but it's still a good sound.
AirPods sound really good but far from being the best wireless earphones
According to Apple, the sound of the new AirPods features "powerful bass and clear, clear treble created by a combination of a specially designed driver and a high dynamic range amplifier." Certainly, this point is remarkable compared to the old AirPods. The separation of treble and bass is not as clear as wireless earphones that use a silicon chip like the AirPods Pro, and the treble may disappear slightly when the bass is dung. Even so, the sound quality of the new AirPods has been greatly improved, and it is comfortable to wear, so I use the new AirPods rather than the AirPods Pro on a daily basis.
Linkage function of Apple ecosystem
When I give top priority to enjoying music, I use Master & Dynamic's MW08, which I think has the strongest sound quality with existing wireless earphones. But when that's not the case, it's AirPods that can easily work with the devices I use every day. While Bluetooth isn't the best for streaming audio (although it should be the best one day), Apple's H1 chip covers the shortcomings of Bluetooth, and the connection between AirPods and the iPhone is impressively sophisticated and smooth. It may seem trivial to connect easily, but Apple's coverage of the shortcomings of Bluetooth is still one of the biggest reasons to choose AirPods.
It's also very convenient to use Siri for simple playback operations without tapping or pressing anything, and it's also possible to join Apple's "Find My" network. Should the earpiece be buried under the sofa cushion, you can use your iPhone (and the strength of the Bluetooth connection) to find it.
The new AirPods will replace the surround sound of home theaters unlikely.
Apple's recent recommendation for spatial audio is that a pair of speakers can produce surround sound, and in the case of the new AirPods, that "speaker" refers to each earpiece. In spatial audio, not only does each sound like multiple speakers installed in a movie theater, but the sound remains the same even if you fix the sound in a specific position and turn your head. It is also possible to make it sound as if.
I use the motion sensor wisely, and it works, but I don't think I would choose the new AirPods over other earphones for this reason. For example, when FaceTime is done in a group, the only thing you think about is that you want to get out of this conversation quickly, and there is no desire to identify the position on the screen of each other party by sound. Spatial audio is certainly a differentiator, but it's also a reason to set prices higher. And I don't think it's as killer as Apple wants.
Price story
The biggest surprise of the new AirPods is the price. 179 US dollars and old AirPods found to be more than 20 US dollars cheaper wireless charging case version. Indeed, the market has changed dramatically in the last five years, and competition has become fierce.
New AirPods (bottom), Beats Studio Buds (top left), Nothing Ear (1) (top right)
Not all wireless earphones on the market are equipped with active noise canceling. Nowadays, even wireless earphones under $ 100 have good sound quality and comfort and are equipped with noise cancellers. Nothing Ear (1) is not as easy to connect as AirPods, but Apple's Beats Studio Buds are equipped with Narcan, the same H1 chip as the new AirPods, but the price is 150 dollars, the new AirPods It's about 30 dollars cheaper. Since the new AirPods also don't have a noise can, Apple is likely to continue to leave the AirPods Pro, which is fine in itself.
Does that mean you shouldn't buy AirPods? Oh, that's not the case. The new AirPods are a great upgrade in every way, and for those who don't like sticking silicon chips into their ears (I've been doing it for decades, but I'm tired of doing it for a long time), the new AirPods are incredibly comfortable. However, the sound quality is also amazing. I didn't think I could do this. I've been wearing the new AirPods all day long since I got them, but I've never tried a wireless earphone that's as comfortable to wear.
Well, if you're a fan of AirPods, you've probably ordered a new AirPods by now. But if you've checked the reviews and thought you'd buy it, I'd like to tell you that it's a good upgrade. It's better than the old AirPods.
On the other hand, if you're considering an upgrade from your old AirPods and want to prioritize features such as sound quality and noise-canceling over Apple hardware, things are a little different. If you can afford more, many excellent wireless earphones can replace AirPods now.
Also Read : Metaverse: This Trend Is Already Entering The Business.