HR & Business Intelligence: data at the service of human resources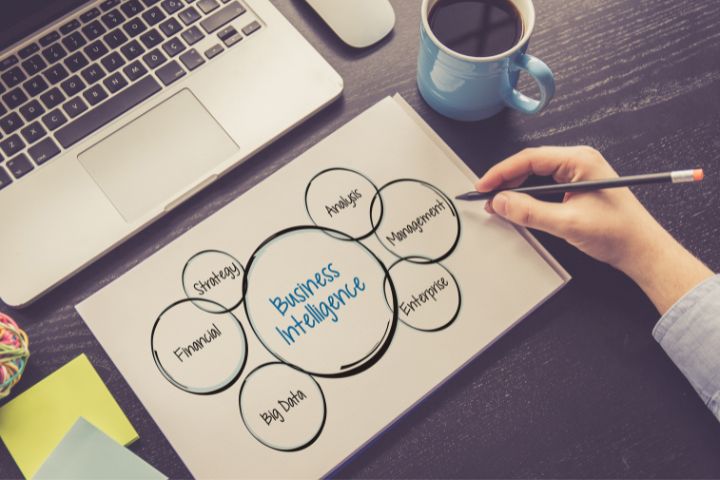 Business Intelligence: If we had to choose a word representative of today's world, we would choose the term " data. "
Today everything is driven by big data.
Every time we surf the Internet, we leave our data and information with companies, and we do it even when we use technological devices.
Technology has revolutionized our lives, but above all, it has affected the business world, and the way companies work. The latter collect, through the digital world, an excessive amount of data.
The goal of every company is to remain competitive in the market, and being competitive today means knowing how to exploit a large amount of information that can be obtained through digital technology.
But what is this data for if it is not transformed into usable information? to nothing.
The real challenge, therefore, is no longer being able to collect them but, above all, being able to interpret them. This is why software and tools have been invented that can translate data into business decisions.
Is this process possible? Sure, thanks to Business Intelligence.
BI is a revolutionary technology in every sector, particularly for human resources, capable of improving daily operations and allowing the company to make more informed choices.
How can HR leverage business intelligence?
Human resources have always made decisions in a "human" way, as the very term with which this company area is defined suggests. Man, by definition, is not perfect, and this characteristic of human nature could make even personal decisions imperfect.
Today this risk can be avoided thanks to business intelligence.
Why make decisions only based on human assumptions when it is possible to rely on real data that allow you to choose the best possible path?
Whether the company is large or small, it doesn't matter; everyone should rely on the power of data.
HR and assisted business intelligence allow you to:
Find the best candidates

for each available role in the company;

Find out if candidates are needed for

new positions

that were not previously considered;

Analyze the performance of new hires

to verify if they are suitable for the role they have been invested with;

Give value to the entire

social sphere

that concerns employees and their needs as individuals;

Improving corporate culture

because getting to know your employees in depth is the first step in taking better care of them, making them work more willingly, and always encouraging them to give their best.
Business intelligence allows human resources to do their work much more accurately and in-depth way than ever before. Choosing the right collaborators, understanding their needs, and making them feel good in the workplace allows the company to make a qualitative leap in production and in the image it gives to the outside world.
How does business intelligence apply to the HR world?
So far, we've focused on why it matters; now, we need to understand how HR and business intelligence can work together.
Today companies work with so-called big data, which are precisely the object of analysis by business intelligence.
Big data are very heavy data, they are fast (new ones always arrive), they are varied, and above all, they arrive in no particular order. This calls for software capable of translating seemingly disconnected data into useful information for department managers to make strategic decisions for the company.
What does business intelligence do within the HR department? Different things.
First of all, it helps HR to aggregate all this seemingly uncoordinated data.
Secondly, they are concerned with visualizing data from transactional systems. This type of data may concern, for example, the hiring of a new candidate in the company.
Finally, business intelligence tools allow for a more in-depth analysis of the data than what is done on average by human resources departments.
And now the most important question: how is this data returned? They are presented in the form of intuitive graphs that are easy to interpret even by people who are not experts in the field of advanced analysis.
The business intelligence tool we use for our clients
Among the best digital tools on the market, we could not find a product signed by Microsoft. The leading information technology company has created the perfect tool that all human resources should leverage to integrate business intelligence into their daily work.
The tool we are talking about is Power BI.
We believe so much in its potential that it is precisely the solution we recommend to our customers.
Power BI uses intelligent software that allows you to find and share insights, features self-service analytics, and ensures data security even when it's exported.
Today, many human resources still use Excel to combine all the data they collect. But with the amount of information we have access to today, the speed with which it arrives, and the complexity, it is unthinkable to be able to organize everything manually or with inadequate software.
Artificial intelligence has allowed companies to take a long step, that is, to take advantage of the most significant technology that has ever been created to find quick answers to business problems and doubts.
It would be a superficial choice not to take advantage of the technologies available on the market because these are precisely what allow your department to work at its best and your company to grow and prosper.
Human resources must analyze the data that determines employee turnover, establish the missing roles, allowing to optimize personnel, and understand what the turnover will be for the coming year.
They are great responsibilities, and for this, we need great technologies.
Conclusion
Big data, HR, and business intelligence are not distant and disconnected terms. These are the ingredients that make up the daily work of companies today.
We wanted to show you how business intelligence can help human resources work because becoming aware of its potential is the starting point for identifying the company's objectives and correctly implementing the tools to do so.
Also Read : How To Avoid Mistakes While Buying a Car for Business