Advanced WordPress Plugins That Will Make Your Life Easier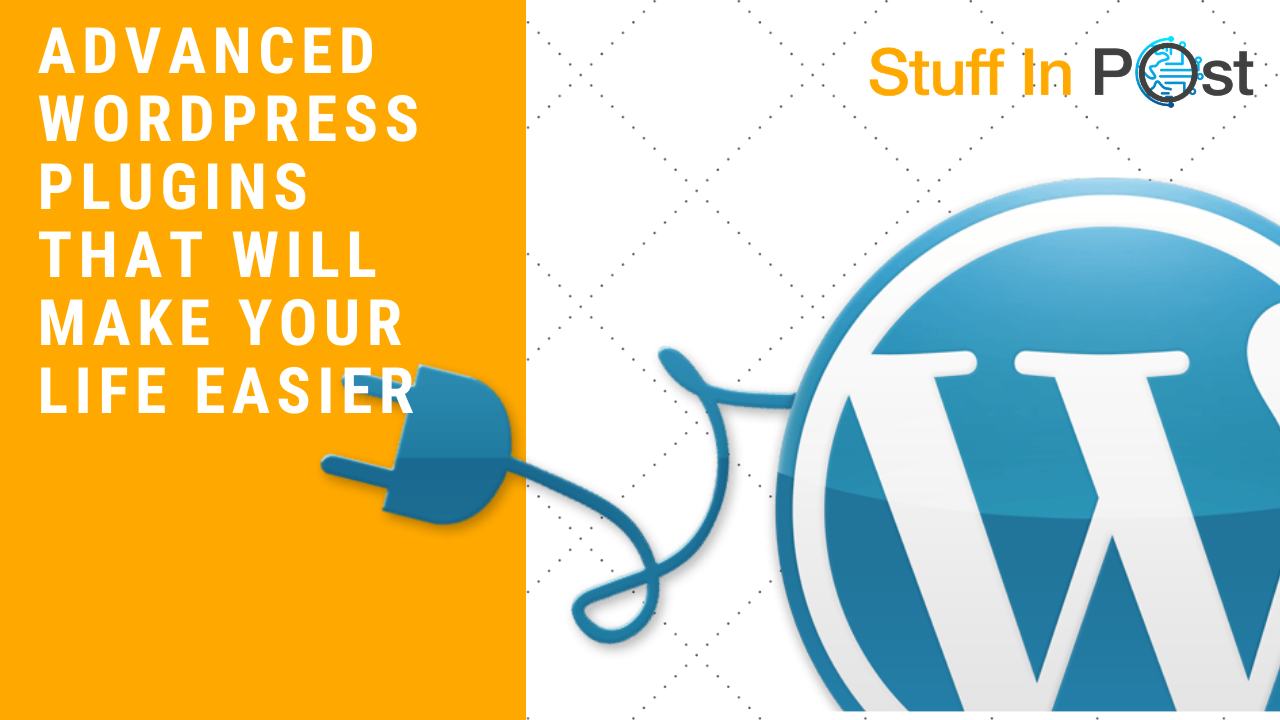 Do you have a blog that you want to give a big boost to? If you have a WordPress page and want to get the most out of it, do not lose sight of them, you can download the following advanced plugins that we recommend. They allow various functions such as improving SEO, contributing more traffic to your website through Social Media, improving your page's security, or reducing loading time. Take note and try to improve your blog to the maximum!
Having a blog can be much more than publishing periodically; you can add many tools and plugins that will improve the quality of your domain and, therefore, the quality of web traffic. The content management system or CMS, WordPress, has more than 30,000 plugins that allow the development of your blog, in the following article, we make a list of the best for you to try.
Advanced WordPress Plugins to Make Your Life Easier
We order the advanced WordPress Plugins by categories so that you know their functions and utilities so that you can take advantage of them in your blogs. Essential advanced WordPress Plugins are the basic ones, and they work for all types of web page regardless of the sector in which we work.
Advanced WordPress Security Or Backup Plugins
Akismet: works as an anti-spam service. It is free and for personal domains and paid for commercials (that is, they generate income). It is a must-have advanced WordPress Plugins.
Anti-spam: it is another effective plugin that deceives all spam robots. It can be used as an alternative or complement to Akismet.
BackWPup: This fantastic free plugin is very important for creating automatic copies of backups; it has great configuration flexibility; it is quite secure and can be integrated with other storage services.
Darwin Backup: it is the way to make backups and restorations, ideal for pages with continuous modifications.
Limit Login Attempts: just in case this plugin limits attempts to access your WordPress account. If a series of failed attempts are made, access from that IP is blocked for a time.
XCloner – Backup and Restore: it is not exactly a backup plugin, but it allows cloning so it can serve as backups or stagging.
Wordfence: another complete plugin to cover various security aspects, such as firewall, malware scanning, etc.
Advanced WordPress Analytics And Statistics Plugins
Do you need to do a good analysis of the statistics or WordPress? Here are some plugins for Google Analytics and analyze the statistics in the WordPress content manager:
Hotspots Analytics: This advanced plugin allows you to see diagrams with "heatmaps" or the highlighted areas where they click the most. So we could see which are the areas or areas where the most conversions occur.
Clicky by Yoast: a great complement or alternative to Google Analytics. It offers us a number of real-time visits, updated statistics, and how to get the data to be analyzed easily and safely.
Simple Google Analytics: another very simple tool, where all we have to do is copy the Analytics code (in the UA-000000 format). Easy and simple.
Advanced WordPress Plugins for Social Networks
Social Networks are one of the best ways to position and improve web traffic.
Digg Digg: it is essential, and they are the vertical buttons, tailored to all Social Networks, that is seen in all the blogs.vertical of this blog.
GplusBadge: is the classic widget in the sidebar, for Google+.
jQuery Pin It Button For Images: to share the images of your blog, there is this plugin that will be interesting to share the images on Pinterest called "Pin it."
Metro Social Style Widget: another very interesting social widget to integrate the sidebar for subscription to your social networks.
Shareaholic: This plugin is very useful for sharing your posts at the end of each one. You can customize it with which social media buttons to use.
Social Metrics: allows you to present a grid with the posts and counters of the main social networks: Twitter, LinkedIn, Facebook, Google+, etc.
OnePress Social Locker: This widget allows you to add boxes that add content in exchange for a tweet or a Facebook like.
Pinterest Badge: This plugin is similar to the previous one but only from Pinterest.
Twitter Liked Box: This tool shows the list of your followers on Twitter through a sidebar.
WordPress Social Sharing Optimization: it is essential because it allows the integration of meta tags through networks such as Google+, LinkedIn, Facebook Open Graph, Pinterest Rich Pin, and Twitter Card.
Advanced WordPress Plugins For Marketing, Sales, And E-commerce
Easy Digital Downloads: It is a great plugin to offer digital products like eBooks or courses. It is very easy to use and effective for info-marketing functions.
iThemes Exchange: another great tool for those who have an online store that helps manage products, track orders, review sales history, among many other features.
Optimize Press 2.0: Another useful plugin, which allows the creation of different pages and marketing layouts. Very interesting for those who have an e-Commerce.
Thrive Architect: Another plugin that allows you to create templates such as landing pages, lesson pages, download pages, or much more. It is handy to help sell and promote digital or physical products.
WooCommerce: it is a good tool to build a virtual store because it allows you to add products in a customizable way such as size, color, and size, among other functions.
WordPress Simple Paypal Shopping Cart: a simple plugin that allows you to integrate Paypal to WordPress. In addition, it includes other options, such as adding purchase buttons synchronized with email.
Advanced WordPress Plugins For Email Marketing
Mailchimp for WordPress: help create your list of subscribers and facilitate the work of sending messages and synchronizing content.
OptinMonster: another useful plugin to display a subscription message in the form of a "pop up." It has attractive and customization designs.
Thrive Leads: It is very important to increase the list of subscribers,
WordPress Calls to Action: a great plugin to create tests, pop-ups, banners, or CTAs.
Advanced WordPress Design Plugins
AdRotate: This complete plugin helps manage ads, banners, and all kinds of HTML elements that can be edited on blogs; it also includes tracking statistics.
Black Studio TinyMCE Widget – This text plugin allows you to create visually appealing widgets without prior HTML knowledge.
Google Typography: It is a great plugin that adds more than 600 fonts from Google Fonts to be used in the WordPress theme. Another alternative that also exists is Easy Google Fonts.
Starbox: it is a creative widget that allows you to create an author information box, and its position within WordPress is customization.
Theme Checker: used to effectively check whether a WordPress theme complies with standards and recommended practices for WordPress.
WordPress Popular Posts: a customizable widget that allows you to display the most popular posts on your blog.
Advanced WordPress Plugins For SEO
Easy Twitter Links: This tool automatically creates links when it detects a Twitter tag or username, anywhere within the blog: posts, pages, and comments.
Jetpack: it is a set of plugins with functions such as statistics, automatic diffusion of RSS posts, social buttons, etc.
SEO Smart Links: allows automatic linking of keywords to posts or internal pages.
SEO Redirection Plugin: allows you to easily redirect URLs to avoid missing pages (error 404).
Yet Another Related Posts Plugin (YARPP): the plugin automatically generates a bar at the end of posts other related articles.
WordPress SEO: It is rated by many professionals as one of the best SEO plugins out there, automates some of the SEO tasks, helps optimize posts and pages, and integrates new options like sitemaps.
Yoast SEO: it is, without a doubt, the most used and the most complete. Yoast SEO does everything in its power to make life easier for both visitors and search engine crawlers.
Advanced WordPress Plugins For Migrations
Blogger To WordPress: These tools help to migrate from Blogger to WordPress and thus maintain your web positioning well, with functions such as redirecting old URLs to new URLs.
All-in-One WP Migration: This plugin allows you to export your blog to a file and then import it to the new site to make it simple and straightforward.
Duplicator: this tool allows you to duplicate the blog in another hosting.
Advanced WordPress Plugins For Blog Maintenance
Broken Link Checker: This plugin effectively detects broken links in the content and allows you to remove or correct the link without having to go to the post.
Optimize Database after Deleting Revisions: With this plugin, you can eliminate unnecessary versions of posts and pages and optimize the database.
TPC! Memory Usage: thanks to this tool, you will know the workloads, consumed memory, available memory, etc.
Ultimate Coming Soon Page: This plugin maintains the blog while you have to do some remodeling. So users only on what you check.
Simple Optimizer: allows you to optimize WordPress by removing everything that slows down the blog.
Advanced WordPress Plugins For Extra Utilities
Always Edit in HTML: with this plugin, you can block posts and pages to edit HTML always without losing the format.
Better WordPress Syntax Highlighter: This plugin allows you to put source code in the editor's visual.
Cookie Law Info: a simple tool that helps to comply with cookie regulations.
Search & Replace: This plugin allows you to search for texts in WordPress and replace them quickly.
WP Sitemap Page allows us to generate a map with the most outstanding domain contents automatically.
Advanced WordPress Plugins For Optimization And Performance
Cloudflare: helps optimize the speed of your website (or blog) and reduces server load.
Lazy Load: Make images visible at high speed, even when loading has not finished loading.
Memory Viewer: it summarizes the load that must be carried out in the PHP code execution and the queries to the MySQL database.
P3 (Performance Profiler Plugin): This plugin analyzes the impact on the loading time of plugins and other plugins that may be problematic.
WP Smush. It: You can optimize the images in the media library to take up as little space as possible, without losing any quality.
W3 Total Cache: thanks to this plugin, you can improve the loading speed of the pages and reduce the server load.
The Importance Of Having Good WordPress plugins
One of the most used web platforms is WordPress since it is simple, easy to use, and offers free options. In this case, the important thing is to know how to get the most out of it so that it can be used in the professional field since every day there are more companies dedicated to offering their products online. Digital marketing currently includes various techniques, such as email marketing, blogging, SEO, and social media marketing, among others. The methodology that encompasses all these techniques and, therefore, works on different fronts to achieve better results is Inbound Marketing, the latest great online innovation.
Also Read : What is AMP Accelerated Mobile Pages And How To Take Advantage Of It In SEO