The Ultimate Guide To the Spectrum TV App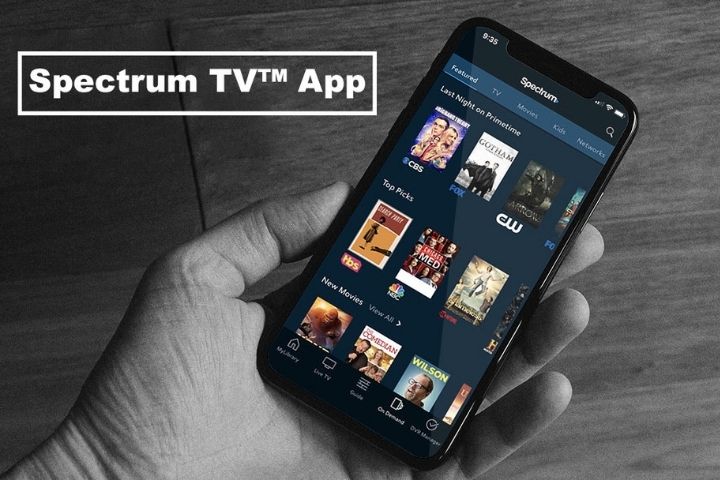 If you have newly subscribed to Spectrum plans, being excited to use the free Spectrum TV app is a given. And, even the veteran customers of Spectrum are finding this added perk as nothing less than a blessing.
Here is everything that you need to know about the Spectrum TV application:
WHAT IS THE SPECTRUM TV APP?
Spectrum has three different applications that the customers can easily download from Google Play or the App Store.
Spectrum TV App allows you to watch television on the go, access your DVR settings and lets you schedule DVR recordings.
My Spectrum App lets you pay your bills, access the Wi-Fi network, and helps you troubleshoot.
Spectrum Mobile App helps customers manage their account information.
While Spectrum Mobile App and My Spectrum App are designed as aid applications to help customers with their services, Spectrum App is a bit different. It is a value-adding app that offers many more free TV-watching features maximizing your entertainment options.
HOW CAN I DOWNLOAD THE SPECTRUM TV APP?
Both iPhone and Android users can download this application with utmost ease. You can take some assistance from the following guide:
Users of Amazon Devices can simply download it from the Amazon Appstore.
Users of Apple TV and Roku can go to the search bar and type in Spectrum TV to add it to the channel list.
Users of smartphones and tablets can download the app by going to Google Play or App Store depending on their operating system.
FEATURES OF SPECTRUM TV APP
Even if it is your first-day using Spectrum cable service, make sure to take full advantage of the Spectrum TV app. It is packed with features that accelerate your TV-watching experience. Its on-the-go TV feature is just the over-the-surface highlight but a number of prominent features are waiting to be explored.
You can watch on-demand and live TV from any connected device at home or even when traveling.
You can watch content on any smart TV that is connected with it – this means that you will not need to pay for an additional cable box.
You can search for live TV shows by the network, genre, and/or channel number. It also allows you to search via sports team, actor, or title.
You can add titles to your favorite list for quick reference.
You can control your DVR settings like deleting, modifying, and even scheduling future recordings through this app.
You can turn on or off your device's parental controls as well.
The Spectrum TV app is a big hit on the play store as well – it has earned a 4.5-star rating on Apple's App Store and a 4.1-star rating on Google Play.
Skim through the following pros and cons of the app for more understanding: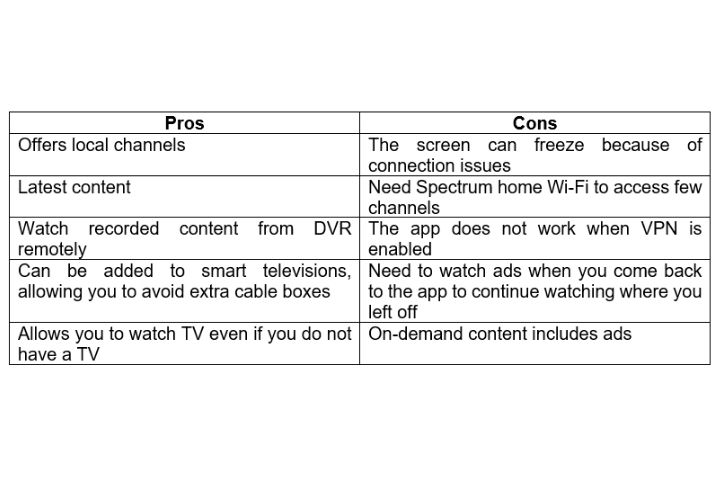 WHICH CHANNELS CAN I ACCESS THROUGH THE SPECTRUM TV APP?
Nearly your entire TV channel lineup can be accessed through the Spectrum TV application. However, you must know that the channel availability depends highly on the market and area you reside in. Having said that, you can expect at least 125 to more than 200 channels available for you to access – the channel count will be affected by your cable plan and customized options.
CAN I USE THE SPECTRUM TV APP FOR FREE?
Since the app offers so many utilities, it being free might come off as a surprise to many. However, before being elated, you should know that the Spectrum TV app works for only those who have subscribed to Spectrum cable TV service, which means it is not that free after all.
The good news is that the app does not discriminate among the various tier plans of Spectrum TV. This means that even if you have subscribed to the basic tier plan, Spectrum Select, you can use the app services as much as someone who has subscribed to the advanced viewer plan, Spectrum Gold.
Another great thing about the Spectrum TV app is that you can download it on multiple devices using the same account. This feature is especially appreciated in large households where every individual wants on-the-go TV.
Furthermore, every user can create personalized profiles to customize the viewing experiences.
If you want to create new Spectrum usernames, here are the steps:
1. Log in to your Spectrum account.
2. Go to Account Management, select Manage Users, and then click on Add New User.
3. Enter the user's details and choose a permission level.
4. Once again, click on the Add New User prompt and wait for the Success message.
While it does not matter how many individuals use the Spectrum TV app when connected to your home Wi-Fi, only two users can access the application at the same time when outside the home network.
WHICH DEVICES SUPPORT THE SPECTRUM TV APP?
You are still living in the world of the past if you think that your apps can only be supported by smartphones and tablets. You can use a number of devices to take full advantage of the supremely powered Spectrum TV app. You can even watch TV directly on your laptop or computer through spectrumtv.com.
Some other devices that are compatible with the application are:
­ Apple TV
­ Amazon Fire TV
­ Roku
­ Samsung Smart Televisions
­ Xbox One
ARE THERE ANY REQUIREMENTS TO ACCESS THE SPECTRUM TV APP?
You only need two things to use the Spectrum TV app:
1. A compatible device that has an appropriate OS version. Below is the list of appropriate operating systems for the above-mentioned compatible
devices:
Android devices: Android 5.0+
Apple: iOS version 12+
Apple TV: 4th gen+
Roku: 3rd gen+
Samsung Smart Televisions: year 2012+
PCs: Windows 8.1+; Mac OS 10.12+
2. A stable internet connection with decent speeds.
As per Spectrum, you need at least 10 Mbps for the smooth functionality of the Spectrum TV app. This is a convenient prerequisite since all the internet plans of Spectrum come with at least 100 Mbps of speeds.
THE LAST WORD
For people who already have Spectrum services, the Spectrum TV application is a great incentive. It is compatible with almost all the major devices including smart TVs, PCs, and smartphones. This app can also rid you of the rent that extra cable boxes incur.
Try out the app and let us know your feedback.
Also Read : How The Google Smart Speakers Compare To Each Other