Rooftop Solar Panels: Technology And Applications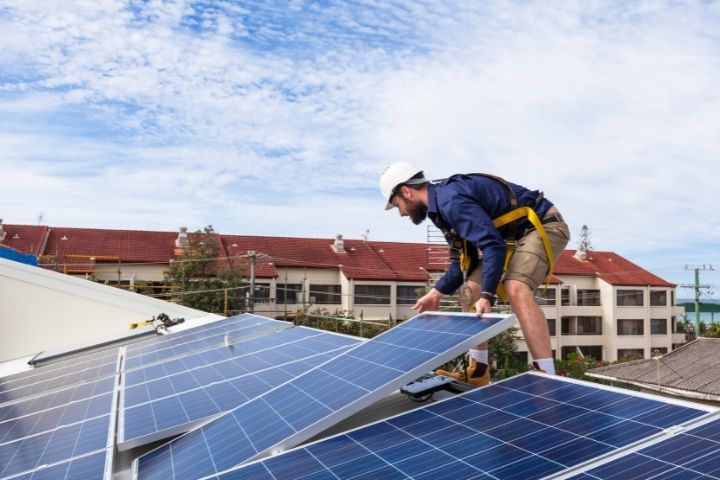 Energy efficiency and eco-friendly homes are growing in both prevalence and necessity. Strict C02 emission targets are increasingly being set by governments around the world, notably a Net Zero target by 2050. "In other words, governments, homebuilders, homeowners, and renters are now getting serious about making adaptations to their energy use for the sake of future prosperity," said Jamie Johnson, CEO of FJP Investment. "The principal means of achieving this transition will be from energy-creating and energy-saving technologies." Rooftop solar panels installed on your home can help achieve two objectives:
Solar panel basics
Contrary to what some people seem to think, solar panels can absorb energy from daylight, and so the blazing hot sun of the Sahara Desert or the sunny climes of Hawaii aren't necessary for solar panels to work. Even on gloomy days, solar panels can generate electricity to power your home, a necessary thing given the climate in the UK.
The cost of solar panels is about £4,800, but the price and technology are constantly evolving. Given this, the following should be taken into consideration if you are thinking about taking the plunge and investing in solar panels for your home.
Solar power payments
In accordance with the UK government's legal requirements on meeting C02 targets, in January 2020, the government introduced a new scheme – the Smart Export Guarantee (SEG) – to pay homeowners that install solar panels on their property. This scheme, -which replaces the old feed-in-tariff (FIT) scheme, – pays households for unused, surplus energy that they "export" to the national grid. The benefit of saving money on electric bills is added to the benefit of being able to earn money by generating electricity yourself, rather than just relying on your electric supplier for power.
Depending on the supplier, the amount you receive back from them varies, so it's worth shopping around for the best offered rates. The scheme operates by requiring energy suppliers to offer customers certain tariffs that pay a predetermined rate for each kilowatt hour (kwh) of electricity you export into the grid.
So, by installing solar panels on your rooftops, you can save up to £360 per year and potentially get back your investment within 15 years. Furthermore, in addition to the financial savings, you will have the satisfaction of knowing that you have played a small part in reducing C02 emissions.
Smart meters
To qualify for the SEG tariff, a smart meter is necessary to track how much solar power you are exporting to the national grid. This applies to both the second-generation smart meters (SMETS 2) but also to some first-generation meters, too. If you currently have a first-generation meter, or even if you are not sure which one you have, you can contact your energy supplier and check with them to see if you need an upgrade.
Your roof needs to face south.
Although not an absolute necessity, south-facing roofs work better at maximising energy collection. Roofs facing other directions may not be able to fully utilise solar power technology, but they will still benefit from it. Of course, this will affect how much money you save and how much energy you can contribute to the grid. You can speak with your energy supplier for advice on this.
Switching energy suppliers
You may be pleased to know that you won't be locked into a specific energy supplier, missing out on cheaper bills, just because you have solar panels installed. In addition to this, the energy company that is paying for your exported surplus energy doesn't have to be the same company as your energy supplier.
Finally, for energy suppliers that have more than 150,000 customers, the smart energy guarantee is protected by law. A list of these suppliers can be found on the Ofgem website.
The location
The further south that your property is located, the better returns you will get. As mentioned above, it isn't necessary to be in hot, sunny climatic conditions to take advantage of solar power technology, but the further south you are located it will make a difference in terms of effectiveness. Simply put, northern homes get less hours of daylight compared to southern homes, something that needs to be factored in when weighing up the pros and cons.
Home valuation
The sight of solar panels on rooftops can elicit different emotional responses, some positive and some negative. Some worry that having them might be an eyesore and thus have a negative impact on their property valuation. However, energy efficient homes that generate their own electricity may be more attractive to buyers, especially so given the changes in attitudes to climate change and necessity of mitigating the effects. It might boil down to whether the solar panels are old or new versions of the technology, as newer versions seem to be more aesthetically pleasing.
Since solar panels are a sizable investment for any homeowner, if you are planning on moving soon, it may be something that isn't suitable for your circumstances.
Living as we currently are through a pandemic, whereby many more people are now working virtually from their homes, energy costs -from additional heating, lighting, and computers – will naturally increase as home offices become more essential and established. This is something that may well contribute to the growing demand for solar panels as virtual workers seek ways to reduce their energy costs.
Finally, installing solar panels doesn't generally require planning permission, but it's worth checking with your local authority for exceptions (like with flat roofs etc.). And as far as maintenance is concerned, solar panels are usually low maintenance if properly installed, but it's worth checking the installer guarantee in case something does go wrong.
Also Read : New Marketing Trends And Marketing Strategies