How To Check The Accuracy of Your Address List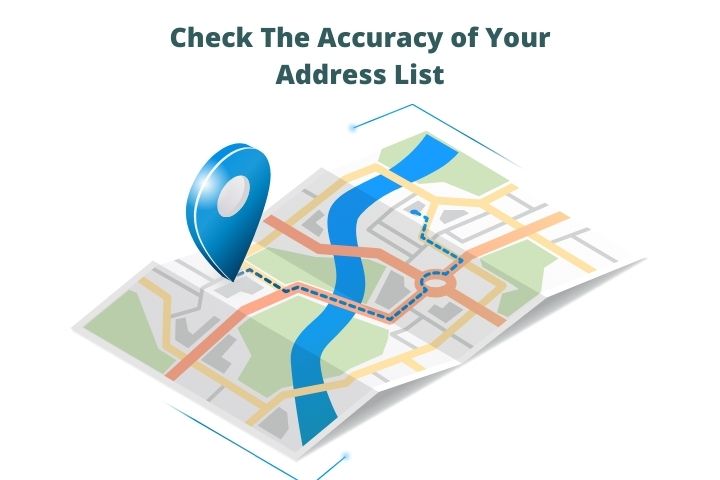 It's often been said that data is king — and if you run a business that relies on marketing directly to customers, you know why. You need reliable information about your target clientele, including their names, addresses, emails, and phone numbers. If you have a database with this information, you're on the right track, but sometimes your data might not be as accurate as you would like it to be. This can happen for a variety of reasons — sometimes customers self-report bad data, or sometimes their contact information changes and they don't update it. No matter what the cause is, though, the result is the same: you lose out on precious information about your customer base. How can you prevent this and ensure the integrity of your address list? Address verification software for real estate is the best resource for verifying customer data quickly.
Take the Time to Purge Data Periodically
There are several ways you can improve the quality of your customer data and minimize losses due to incorrect information. One of the best ways to accomplish this is to periodically purge your address list and weed out information that you know to be incorrect. This can be done manually by reviewing your customer records and comparing them against newer information — but of course this method is incredibly time-consuming and not guaranteed to be accurate. Another option is the use of an application such as BatchData software to automatically identify obsolete data and purge or update it.
Periodically purging data offers a range of benefits to businesses. In addition to maintaining clean customer records, it allows you to minimize the storage burden of your database, which can save you space in the cloud or on your hard drive. You might be surprised by how much space is wasted by the clutter of incorrect data. A purge is a great way to eliminate this problem while improving the overall quality of your data.
Make Efforts to Update and Correct Bad Data
Getting rid of bad data is relatively simple, but updating it can be a bit trickier. It's not always easy to get a customer's most recent address if they've moved. Similarly, it can be difficult to update an email address if your clients no longer use the email they initially provided. What's the best way to update this information quickly and accurately? There are several resources you can consult, including a phone verification API, which allows you to confirm the details of phone numbers in your client list, including the line type, its time zone, the carrier, and whether or not it's listed on the national do not call list.
This information can be a great resource to any company that needs to ensure its data is accurate and accessible. Using the wrong data isn't just an inconvenience — it's a massive waste of your company's resources, too. You need to ensure that your efforts aren't wasted, and a verification service is the best way to do that.
Also Read : Instagram: How do I add a link to an Instagram Story?