How Does Google Meet Work? Just Everything There Is To Know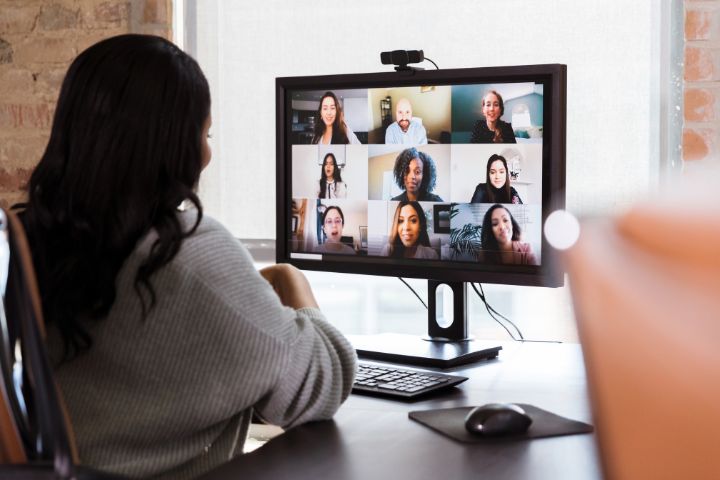 You need to organize a meeting with friends or colleagues, so you are looking for information to know how Google Meet works. Smile, you are in the right place!
Yes, because today it is more than ever necessary to have applications that allow you to see each other even at a distance, for example, in smart working, especially in this period of the Covid-19 Pandemic, but not only.
So take 5 minutes to understand what we are dealing with and what is the potential of this simple but very effective tool.
First of all, it must be said that this software is the evolution of Google Hangout, which already had certain notoriety but was not yet as mature as it is now.
Features Of Google Meet
To explain how Google Meet works, perhaps it is easier to tell you that it is a direct competitor of the well-known Zoom platform. But there are also Webex, and Jitsi, All professional applications for making video conferences.
But Meet has an edge, that's why. This application allows you to:
Easily manage meetings for up to 250 participants

Share your desktop, browser windows, and files

Use a chat shared with participants

Silence and expel any harassing participants (if you are the administrator)

Automatically create a meeting from a Google Calendar appointment
Interface
The interface is essential and intuitive.
Have you ever used Skype for video chats? This is perhaps even better because it is even more minimal.
In the foreground, you find the people connected with you, to leave room for the edges, not intrusive, the buttons for valuable functions.
The buttons are described below:
At the top right, you can manage and invite participants

Always at the top right, you will find the button to open the chat, which is handy if you want to share a link

Always in the upper right corner is a small box where you find yourself
Below we find:
Meeting Details

link that you can copy and send to invite other attendees.

Microphone activation and deactivation;

The symbol to end the call is the classic red handset;

The symbol with the camera, to activate or deactivate the webcam

Present Now

button to share screen, browser, etc. (remember? I talked about it in the features)

Finally, there is the menu key which is characterized by three dots; you can:
Open a virtual Jam Whiteboard, which is useful if you want to explain something with drawings.

Edit Layout to change the arrangement of the elements

Fullscreen

Change background, this feature is new and is used to eliminate the background behind you and upload an image at will (if you are in the kitchen and you do not want to show the participants your dishes to wash, this function is perfect)

Enable subtitles (automatically generated)
In short, it is a truly feature-packed application.
Requirements For Using Meet
What are the requirements at the price of all the features we've listed?
Don't worry, and you won't need a computer with a Ferrari engine, much less a smartphone worth thousands of euros.
This application is very light, and any latest generation device will suffice.
First, it must be said that the strength of Google Meet lies in belonging to the Google Suite (now Workspace), which connects it in a simple way to all the other apps of the Mountain View house.
That's why the first requirement is to have a Gmail account.
But who doesn't have it? Come on, don't tell me; you don't have it.
It takes about 2 minutes to create, less time than reading this article.
Obviously, you must have a webcam, speakers, and a microphone, but was there a need to write it?
End of requirements. Wonderful, isn't it?
How To Use Google Meet On A PC
Do you want to use Google Meet from your office computer or your Macbook at home? No problem.
You don't need any software or applications installed.
The only tool you need is a web browser such as Google Chrome, Mozilla Firefox, Microsoft Edge, or Safari.
Once you have created or received the invitation link, just click on it, and a screen will open with a green Join meeting button.
Just click on it, and that's it.
Obviously, as for all platforms, you will be asked for various permissions to use the microphone and the webcam. But we are sure it has already happened to you, and you will have no problems.
How To Start A Google Meet Meeting From A Smartphone
The first thing to do is download the app. You can find it on the Apple Store and on the Play Store; they clearly have the same functions.
Upon opening, you will immediately see the image of your front camera. Of course, you can decide whether to turn it off, as for the microphone.
You can join a meeting organized by others or create a new one yourself. Once created, you will also see directions for inviting other participants.
If you are a guest, simply enter the meeting code that will be provided to you and press the Ask to Join button.
Also, in the mobile app, there are all the same buttons that you find in the Desktop version, with which you can send messages, turn off the camera and microphone, see and interact with the participants even through messages, etc.
Simple and intuitive.
Schedule An Online Meeting With Google Meet
How does Google Meet work to schedule meetings?
As I said earlier, this platform is made by Google and, therefore, perfectly integrated with the entire Gsuite environment, which has now become Google Workspace.
The easiest and fastest way to book a meeting is to create an appointment in Google Calendar.
The creation screen also offers the  Add conference button on Google Meet. Clicking on it generates the unique code for the videoconference room.
Those who receive the invitation to the appointment on Calendar will see the link directly.
Google Meet: Costs, Prices
Here comes the beauty. For now (and hopefully forever), it's absolutely free for more than professional use.
Google says it should return to payment from March 21, 2021. We'll see.
Here is the current price overview is taken directly on the Google site.
Alternatives To Google Meet
There are many more or less recent and more or less efficient alternatives:
Skype

Microsoft Teams

Zoom

Facebook Rooms

Google Duo

Cisco WebEx

FreeConferenceCall

FaceTime
They are all great apps, no doubt.
From our point of view, the best is still Google Meet because it integrates with the entire Google Cloud Workspace Suite and allows you to do everything while remaining in a familiar environment, also considering IT security. If you have a company and your meetings are focused on collaborative projects, you can't do without it.
Do you have any further advice to explain better how Google Meet works?
Do you know other better software? Let us know in the comments!
Also Read : Cyber ​​Security: Data Protection And Crypto Locker