Far Beyond The Doorbell: Video Door Entry Systems Are Smart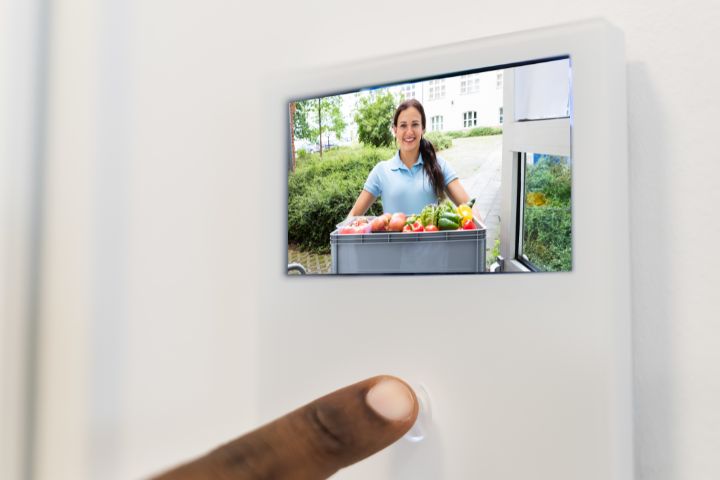 Video door entry systems play a fundamental security role, often little recognized, in commercial and residential buildings. One does not think about it, but the first "connection" between inside and outside, between the people who live or work in a building and their visitors, and therefore the initial and fundamental level of security, is represented by an intercom, of whatever nature it is.
Growth in this sector, we will see the data shortly, has never slowed down in recent times. There are several sector studies and even numbers, but on one point, all analysts agree: the trend is certainly positive and always destined to increase. 
At least in this market, in fact, COVID has had a positive consequence. The need to protect themselves from contagion has placed greater emphasis on access to buildings and secure initial communication. Think of medical offices: before the virus disrupted lives and habits, it was normal for waiting rooms to be freely accessible.
Today, however, a gathering of people in a place that, by its nature, is highly likely to be infected and the first "filter" occurs through the intercom is unthinkable. The pandemic has led designers to seek increasingly "smart" intercom solutions to help to build users maintain hygiene and physical distancing practices. 
Free to communicate
But even without thinking about the coronavirus, technology today allows us greater freedom of communication. It is possible to work from anywhere using videoconferencing systems and mobile devices. Yet, there are still numerous services and activities that must necessarily be kept "on-site," and it is precisely the intercom that allows staff who are, perhaps, on an isolated site to let a visitor in or not who could create problems of safety.
Obviously, we no longer have to think of the intercom as that kind of wall telephone that is still found in older apartment buildings. The devices, in fact, have evolved from simple audio solutions to advanced systems over IP that provide, for example, HD images of who is at the door. And, by now, they also allow remote monitoring,
Contactless 
Recently, there has been a big push for the integration of intercoms with other security platforms, such as access control and mobile applications, not only driven by COVID but by the same way we manage the day with devices like a smartphone. And contactless communication is the real "killer application": we are now used to it, and it avoids any form of contagion.
In fact, during the most acute phases of the pandemic, everyone was aware of the potential hotspots represented by traditional push-button panels. Here, then, is the migration to devices and sensors that do not require contact precisely to manage the traffic of residents and visitors of a building. For example, an intercom equipped with a sensor allows access by simply moving the hands in front of the device to initiate communication with the person inside.
The video door phones can also be used to manage the so-called "occupancy management," which we have all known during the pandemic, but which can also have different uses. For example, in a university laboratory where only a certain number of people can enter, the video door entry unit can not authorize entry when the set number has been reached. 
Integration
Integration has also become a major trend in the intercom industry. Already now, we are starting to see intercom manufacturers making access control systems and vice versa. But the real integration happens in the software of the devices themselves. Think, for example, of multi-tenant solutions: if there is a gym in the building, managers can enter the changes in a new customer only once in the system and provide them with a secure and updated access key without the need to cross data continuously.
Evolution
After all, the intercom world is in continuous technological evolution. Today, most of the systems in the field are still wired, and the IP ones are connected via Ethernet cables, but we are rapidly moving towards much more convenient wireless, and even the latest generation devices host artificial intelligence technologies on board. . A revolution, then, will be represented by the spread of cellular technologies such as 5G, by which any data transfer will become much cheaper. 
Usability
Furthermore, modern technologies make it possible to make intercom systems more and more "friendly," also concerning elderly people or people with disabilities. More and more intuitive icons, the use of sign language or the Braille alphabet, as well as video cameras that allow a perfect view even for those in a wheelchair are just some of the tricks to keep you safe in homes as well as in offices, all of them, even the weakest.
Precisely in the health sector, and here too, the pandemic has undoubtedly been a major driving force; it may be possible to monitor patients by doctors and nurses without their presence, so to speak, "physical": the video intercoms in the rooms allow practically continuous monitoring of all the patients in the structure without having to go from one room to another, 
The numbers
And let's get to the numbers. According to a study by Market Research Future, the intercom market is expected to reach $ 3,663.6 million by 2027, with a CAGR of 5.30% in the period between 2020 and 2027.
Analysts all agree: to make this sector grow, certainly the greater perception and need for security within the walls of the house, linked to the well-known pandemic events, but also the use of IP technology and, more generally, the interventions that have been made all over the world in support of building automation in recent years. 
Finally, wireless in the intercom segment deserves a separate discussion. As in all sectors, wireless technologies are gaining popularity and diffusion because they have become increasingly safer; by their nature, they reduce installation and labor costs. If we add to this the Internet of Things, it is easy to predict that the market will reach very positive numbers in the coming years, expanding more and more to sectors such as logistics and hospitality.
Transparency Market Research analysts predict a market value of 12.4 billion dollars by the end of 2030. In short, one thing is certain: let's forget the doorbell and handset; the future is knocking right on our doorstep
Also Read : How Can a Personal Injury Lawyer in Austin Help You Get Justice?