DJI OM5 brings cinematic telescopic stabilization to smartphones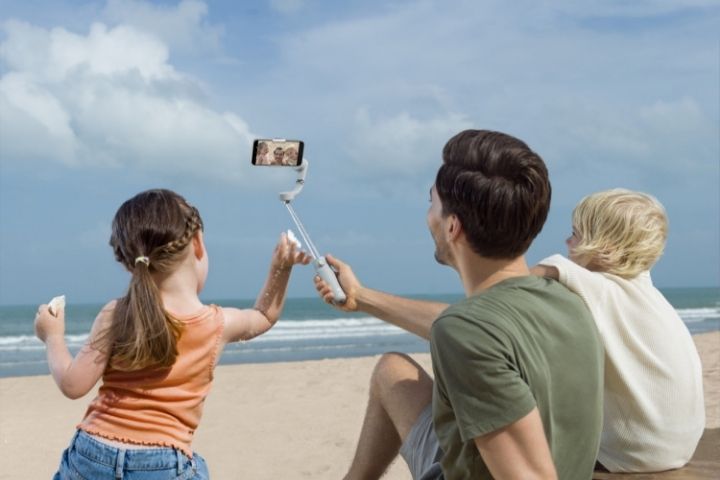 As anticipated in recent days, DJI announced an expansion of its Osmo range by presenting DJI OM5, the new portable and handheld gimbal that integrates the same stabilization technology used on film sets to take photos and film videos with the smartphone.
The true innovation of DJI OM5 is concentrated in the design, revisited compared to previous models to guarantee results of an even higher level. The gimbal has elegant finishes with flexible and resistant metal joints. It is available in two color variations: Athens Gray, inspired by Greek architecture, and Sunset White, which incorporates the subtle shades.
It is foldable and ultra-light to fit comfortably in the palm of your hand, so it can be carried anywhere without taking up space. The handle is ergonomic to adapt perfectly to the hand without fatigue, and there is a magnetic clamp to hook the smartphone to the stabilizer in a few seconds.
Another strong point is that for the first time on a product of this type, DJI has integrated an extendable 215mm telescopic handle to allow you to frame several friends in a single selfie and shoot creatively from different original angles.
From a technical point of view, the key to DJI OM5's stabilization is enclosed in three motors that ensure that the mobile always remains in place, even during dynamic movements or when using larger smartphones. It also features intelligent algorithms that adapt to the user's actions while shooting, whether using gesture control or in motion.
Another novelty is represented by "ShotGuides, "an honest guide for users – exceptionally the less experienced – from recording to editing. This function allows DJI OM5 to automatically recognize the environment in which you are located and recommend the user a sequence of shots combined with a series of video tips on obtaining it. The templates will differ based on what was filmed, and you will even create a short video in one tap.
DJI OM5 is within everyone's reach because it features a wide range of intelligent shooting modes that can turn any moment into a memory worthy of imaging professionals. Depending on the effect you want to obtain, you can choose between the "Panorama" function to frame everything around us, "CloneMe" to create a single panoramic photo by combining multiple shots with the same subject in different poses, or "Spinshot" For effective rotating images, up to the more classic "TimeLapse" and more.
Improvements have also been made to the Active Track technology, implemented in version 4.0 with greater functionality. In addition to recognizing subjects (people, animals, and things) to keep them in the center of the frame, there is also an automatic face recognition system for the selfie mode.
DJI OM5: availability and prices
DJI OM5 is distributed in Italy by Nital and is available at € 159.00. It can be purchased at the distributor's store or at the leading specialized retailers. It can already be pre-ordered from this page of the official DJI store on Amazon, delivering on September 15th.
Those looking for a super-compact all-around camera can look at our DJI Pocket 2 review; instead, for those who love drones, we refer to the DJI Air 2S review, one of the best ever on the market today.
Also Read : iPhone Still Remains The King: Record Turnover For Apple