How Women Entrepreneurs Are Making A Mark In The Business World?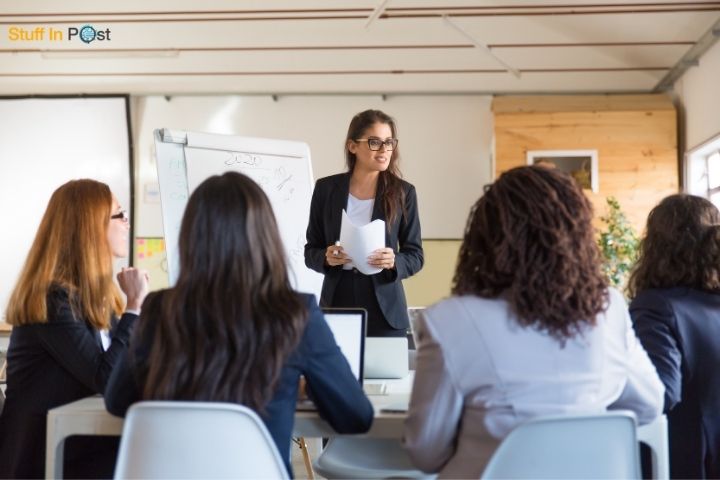 Women have always been capable of multitasking in every aspect of life. When women stepped into the professional world, they seamlessly adjusted into handling businesses. Entrepreneurship allows women the capability to balance not only their careers but also households if need be. Indian women are using their talent to become successful entrepreneurs in various industries. Micro, Small and Medium Enterprise (MSME) Ministry have been highly active in ensuring the growth of more entrepreneurial businesses in the country. Their schemes for business loans for women have been highly beneficial.
The International Centre for Entrepreneurship and Career Development (ICECD) trains women who want to utilise their skills to start a business. Training programs for women are designed without taking into consideration the level of education. It is purely focused on the skill they possess and how that can be cultivated into building a business. ICECD provides not only training but also helps in marketing the business and finding the investors and capital for the business. Women entrepreneur loans have made funding easier too.
Women entrepreneurs also are providing employment to other women in the society around them and creating a safe and productive space to create independence in women. Many small and medium businesses around the country are helmed by women
Woman Entrepreneurship:Success Stories
1. Pallavi Mohadikar Patwari – Karagiri
Pallavi is the daughter of a weaver who was using her entrepreneurial skills from a young age to sell sarees on eBay to fund her post-graduation. In 2017, she founded Karagiri along with her husband. The initial investment of Rs 3 lakhs has become 400 times in terms of growth revenue by 2019. The start-up works with 1500 weavers across India and has sold 50,000 units of products around the world. It further plans to include up to 5000 weavers and celebrate the craft and keep providing jobs to weavers.
2. Aditi Gupta – Menstrupedia
Aditi Gupta, an Engineering graduate with Post Graduation in Media Design, wanted to end the taboo that surrounds menstruation that exists even to this day in India. Belonging from a middle-class family, she grew up in an environment where any mention of menstruation was shunned. She co-founded Menstrupedia to spread awareness and take a step towards empowering women, especially in backward areas.
Menstrupedia is a friendly guide with a team of dynamic people who spread useful information and guidance about the biological process through various forms of media. The platform has 14 lakh online and offline users.
She also has an online portal that sells products for menstrual hygiene.
3. Deepmala – The Visual House
The Visual House is a video production and creative communications company started in 2010 by Radio and TV journalism graduate, Deepmala. The business which started with an investment of Rs 10,000 earns revenues in crores today. They produce commercials, short videos, documentaries on various topics as per client guidelines. Their campaigns contain a lot of different, visually enticing elements. In 2015, the Visual House received their first project from Defence Research and Development Organisation (DRDO). Today it counts many government agencies, both Indian and international as their clients like Ministry of Home Affairs, Ministry of External Affairs, WHO, UNICEF and others.
Government Schemes
Some women start their businesses to overcome financial difficulties. Some women start a business to simply have the convenience and control over their careers. Irrespective of the reason, funding is still tough to come by for women entrepreneurs. The MSME Ministry enables women to establish their businesses easily by the various small business loan schemes.
Pradhan Mantri Mudra Yojana
with its three different loan options, can provide business loan for women of different monetary values according to requirement. The money helps women to establish small scale businesses and start their entrepreneurial journey.
Women Enterprise Program Or Mahila Udhyami Yojana
Mahila Udhyami Yojana is a business loan scheme that offers a discount of 0.25% on interest of a business loan for women.
The Stand-Up India scheme is meant to provide easy business loans to women entrepreneurs where the State/Central government pays a 25% subsidy, and the loan covers 75% of the total working capital.
Hindrances
In a male-dominated country like India, the growth of women is still considered slow. Percentage of women entrepreneurs in India is only 5.2% of total self-employed people in the country. There are many government and non-government organisations that are assisting women to start their businesses and acquire women entrepreneur loans. Training and other technical assistance are also provided to help these businesses to grow.
Financial issues arise with many banks and even NBFCs often being unsure of funding women-owned businesses due to their prejudice about women business owners. Funding is considered to be highly risky in these cases and financial organisations are unwilling to undertake the same. Consistency in women entrepreneurs is put under doubt. The issue also rises when women cannot put up collateral which is an issue because in certain cases, women are not allowed to own properties or assets by their families.
It is important as a society to support more women to start their businesses. They are many social constraints that often hinder women from establishing themselves. These constraints that society needs to get rid of as a whole. Reasons like competition over the availability of raw materials and reduced mobility for women don't help the situation. Free movement of women in society is still not free from criticism or even harmful probabilities.
The expectation from women to always prioritise their family life, often guilt them into putting less focus in their work. Sometimes the attempt at entrepreneurship is abandoned altogether.
Women in many parts of the country are still prevented from receiving education. They also have no access to training facilities that may enable them to eventually start their businesses.
A search on any web engine would bring up a list of a lot of women who are at the helm of many national and multinational companies that they started and are running. It is amazing to see how far we have come in terms of women entrepreneurs, even though hindrances have been many and persist.
Efforts regarding empowering women have to be constant, and it can be said that we are at least on the right path.
Also Read : Preparation Tips To Ace Any Government Exam