A Quick Guide To Transfer Whatsapp Messages From iPhone To Android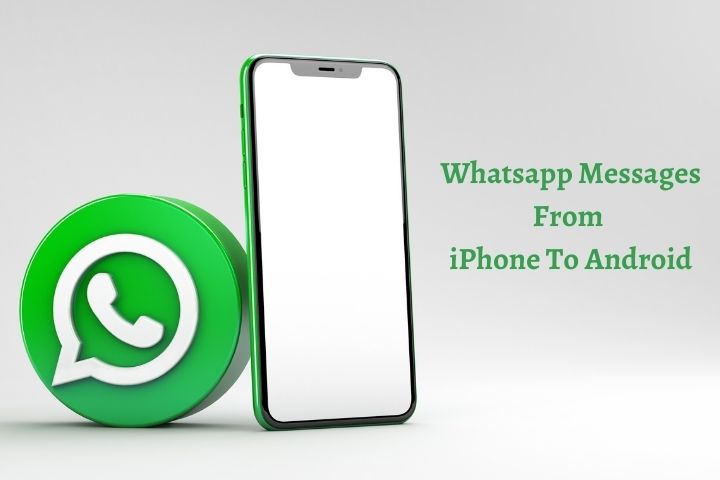 WhatsApp has become the global hub of communication for billions of people across the world. The introduction of this amazing social media platform has revolutionized the concept of communication in today's digitized world. It has become the most preferred convenient place to connect with friends, family, and colleagues.
However, the rapid use of this platform has driven people's attention to the need to backup WhatsApp messages to avoid losing this data after any lost, stolen, or damaged case. For instance, if you want to buy a new Android phone to operate your social media, you will need to transfer the old WhatsApp messages. For this purpose, you will need a reliable, multi-functioning tool like Dr.Fone from Wondershare.
In this guide, you will learn everything about this amazing tool Dr.Fone and how it helps transfer What'sApp messages from iPhone to Android.
Easy-To-Follow Steps To Transfer WhatsApp Messages From iPhone To Android
In this section, you will learn how to transfer WhatsApp from iPhone to Android with minimal operation and no hassle.
Step 1: Install Dr.Fone In Your Computer/Laptop
You have to download the software tool application, Dr.Fone, for your WhatsApp transfer from the genuine website of Wondershare. Install the software and open it.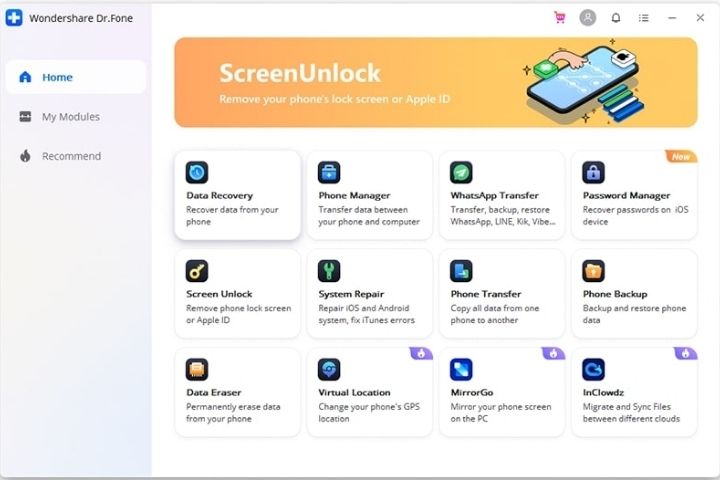 Step 2: Click On The 'WhatsApp Transfer' Tab
You will find a 'WhatsApp Transfer' tab on the first page after opening Dr.Fone. You have to click it and then find three new options stating: restore, transfer, and backup. Click on the transfer option and proceed.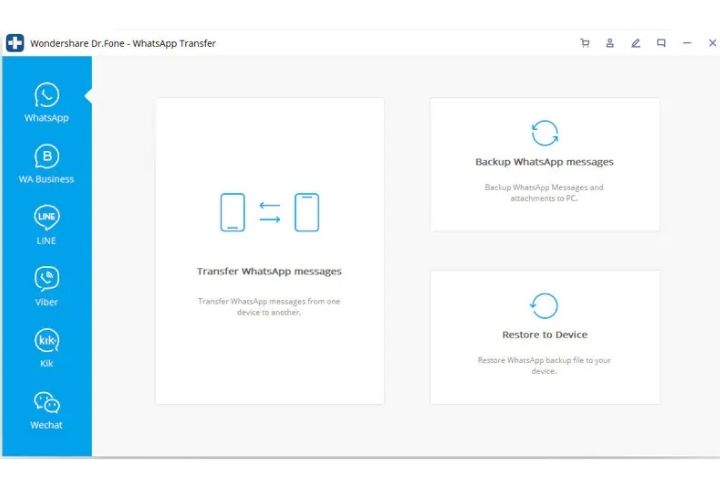 Step 3: Plug-In Your Devices And Connect Them
In this step, you have to take portable USB cables to connect your iPhone and Android devices to the computer or laptop. Ensure to plug in the cables properly for connection stability.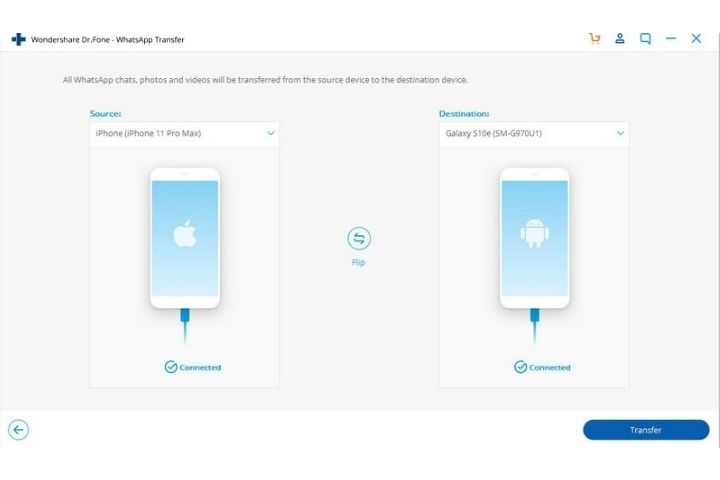 Step 4: Wait For Dr.Fone To Identify The Devices
Now, the software tool will evaluate the connected devices to identify the destination device and the transfer source device. It may take a few seconds. Also, if you mistakenly chose the wrong device as your destination source, you can interchange it with Dr. Fone's 'flip' option.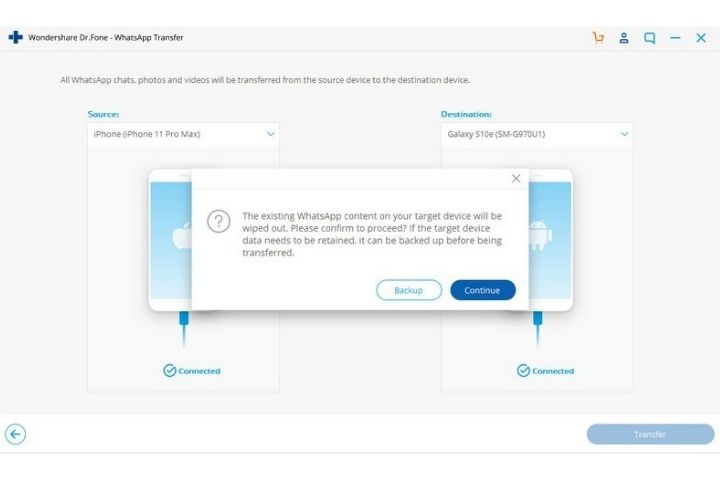 Step 5: Pick Your WhatsApp Data For Transfer
In this step, you have to pick out the WhatsApp data you want to transfer to the other device. You can include your transferring data from audio, videos, contacts, images to texts.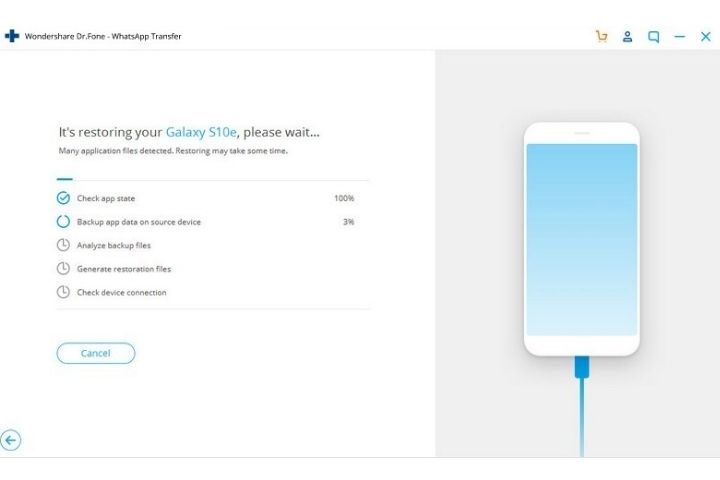 Step 6: Wait Until The Transferring process Is Complete
Finally, you have to click on the start transfer option. This will start the transferring procedure. You must avoid touching and interrupting the cables or computer as it may stop the entire process. Wait until the transfer is complete, and then disconnect your device.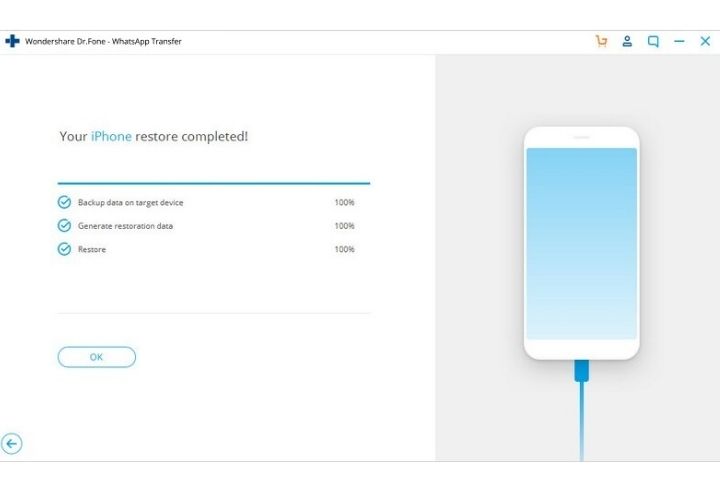 Features Of Dr.Fone – The Safe WhatsApp Transfer Tool
Here, you can check out the amazing features of Dr.Fone that make it the ideal choice for your WhatsApp transfer process.
1. Simple Operation
Dr.Fone enables its simple operation feature to the users for easy handling and easy accessibility of the application software. You will enjoy easy navigation to finish your WhatsApp transfer with minimal time and no hassle involved. This feature enhances the software as a user-friendly tool.
2. Advanced Security
The safety and privacy of the user's data is the topmost concern of this powerful WhatsApp transfer tool, Dr.Fone. You will enjoy its advanced fraud protection policy feature for your WhatsApp data's optimal privacy and security during the ongoing transferring procedure.
Wrapping Up
Dr.Fone is the ideal choice for your WhatsApp data transfer as the software tool enables you to complete safety, protection, and reliability for the service. You can easily access this software with no hassle and transfer your data in a quick span of time.
Also Read : You Can Transfer Your WhatsApp To Another Phone Without Losing Messages In 2021