8 Steps To Planning And Managing a Corporate Event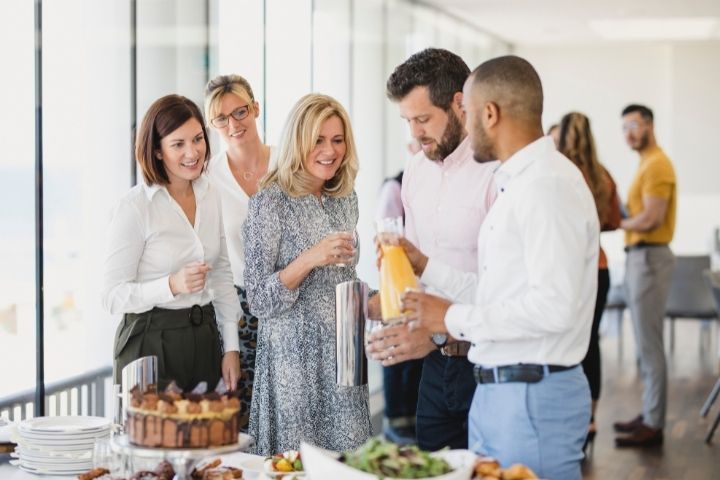 If you are planning an event, no matter its size, it's important to have a plan in place beforehand. The more concisely you can define your goals at the outset of the process, the closer you will get to achieving them. Ultimately, there are eight key steps to planning and managing a corporate event successfully.
1) Determine Your Objectives
You should start with a clear idea of what your objectives are for this particular event. Some possible examples may be:
To reward outstanding employees To launch new products or services To impress clients/customers To encourage networking between employees To raise funds for charity To gain media coverage
The list could go on indefinitely but these are some things that many corporations might aim for when hosting an event. By defining your objectives you will make the planning process more focused and goal-oriented, which will prove invaluable to your chances for success.
2) Identify Your Audience
The next step involves taking a little time to reflect on who exactly is going to be attending your event. What demographic groups should be catered for? How many people will there be? What are their needs/preferences? Will there be any special requirements (e.g. wheelchair access)? These are all questions that need answering before proceeding further.
The key here is to ensure a good balance of attendees with a variety of professional backgrounds and interests so as not to bore anyone or avoid too much repetition in conversations. Again, once these things have been decided, your event planning process will be that much more effective.
3) Choose a Date
Once you have outlined your objectives and identified your audience, it's time to choose a suitable date for the event itself. It is worth bearing in mind that this may depend on other factors such as the availability of venues or staff members involved, so it might take some consideration before finding an option that works best for everyone.
The date needs to suit everyone's schedule while also taking into account any major events (e.g. sporting fixtures) which could clash with your own, putting attendees at risk of conflicting engagements.
4) Determine How Many People Will Attend
With the need to cater to different professional backgrounds and interests in mind, you should next start looking at how many people will be attending. A bit of research here will make a big difference by allowing you to provide the right amount of food and drink for your guests, as well as ensuring that all companies/brands involved are represented in some way.
This step is important because it assists with better planning and allocation of resources for your event, which means you can better manage costs and maximize profits if applicable.
5) Book a Date/Venue
If you have determined that your corporate event would be best held on a specific date, then this is probably the time when you would book it (if it hasn't already been booked). If there are multiple options available for booking on your chosen date, ensure that you consider the location, availability, and cost of each venue before making your decision.
6) Decide On Activities/Theme
Once you have a date and a location sorted out it's time to think about the finer details such as what exactly will happen at your event. Will there be any activities or other attractions? Do you want to provide food and drink for all attendees or should they bring their own refreshments? Should there be anything for guests to take away (e.g. souvenirs)?
Again, decide on these things based on who your audience is and what objectives you hope to achieve through this event. Once everything has been booked in advance, it's advisable to send invitations so that people can start planning ahead if necessary.
7) Send Invitations
If you have determined who your guests are and how many of them will be attending, this is the time to send out invites. You can do this in a variety of ways but each method usually involves an electronic version which must then be printed out for distribution. This may seem like a lot of work but it pays off by ensuring everyone knows what's going on and whether or not they have been invited – after all, nobody likes being left out! If possible, consider hiring a professional company to help with the design and formatting of these invitations so as to ensure that they look good and appear professional at all times.
8) Follow-up
The final step in event planning requires you to follow up on all details such as venue availability, catering arrangements, and guest responses. This may seem like a lot of effort but the point is to avoid any last-minute problems so it's important to do everything you can before the event itself. If things run smoothly then your efforts will pay off in terms of delighting all guests with your organization and putting on an enjoyable experience for everyone involved.
Using An Event Management Platform For Your Event
The above 8 steps can be quite time-consuming and, to make everything easier, there are a number of online tools which can help you to plan meetings and events more easily. By signing up for an account with one of these platforms, you can take advantage of features such as:
Automatic email notifications and reminders about important dates so that nothing slips your mind
A calendar view for scheduling purposes
Integration with other services such as Microsoft Exchange and Google Calendar so that no information is lost
An interactive map showing the location(s) associated with each event on your schedule
These benefits all ultimately aim to save you time by ensuring that everything runs smoothly without any slip-ups or omissions along the way. Of course, it's also beneficial for guests because they will know exactly what to expect and when, plus there will be a range of activities available for them to take part in. In other words, your event management platform should make life easier for all parties involved.
In conclusion
Planning and managing an event is often seen as a difficult task because it requires you to keep track of everything from start to finish. However, there are plenty of tools out there that can help by streamlining the process so that you don't have to worry about forgetting anything or leaving anybody out.
Also Read : Social Selling In 10 Steps