What To Look For When Buying Home Appliances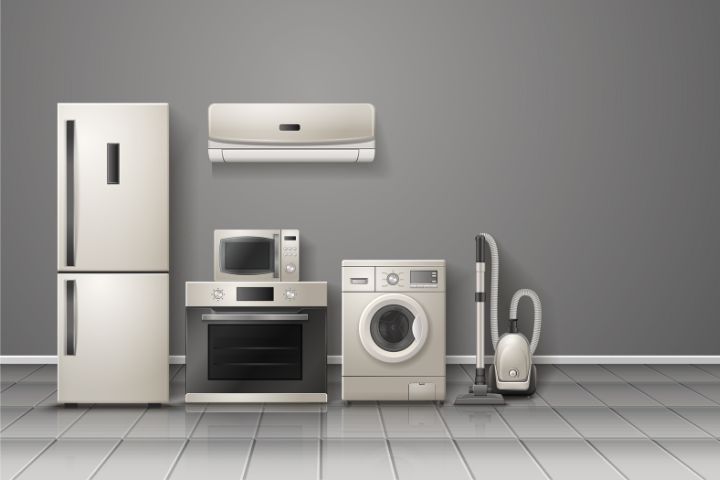 A home is not just about the family members but also about the interiors and the appliances that you use regularly. Your home is a reflection of your personality and the appliances show how comfortable and convenient your life is. The electrical appliances are the heart and soul of the household and with smart homes, they have become a crucial part of every home. Right from the electric kettle to a coffee maker, there are so many appliances we cannot imagine our lives without.
We are nothing without the appliances in our homes. So, before you set out to buy new appliances this year, take a look at our guide to see what you should look out for before spending your hard-earned money.
1. Features
Whenever you begin the home appliance buying journey, the first thing you need to look out for is the features. All products come with unique features and no matter what you buy, the purchase should be up to date with the latest technology. Research the latest technology based on the product you are looking for and ensure that the product is the latest version. It will ensure that you do not need to upgrade the product anytime soon and you will find value for money. You might think of buying an older product but there lies the risk of it going obsolete in a little while. This is why you should only look at the latest and modern products, even if you have to pay a little extra for them. The product should have enough features to make it lucrative at the price point.
2. Energy Efficiency
All of us live in an era where everything is easily available to us and getting access to information is quick and convenient for us. All appliances and electric devices can give us information about their energy consumption. Electrical appliances should have the right rating and it will show how much power they consume. You need to look for those appliances that consume the lowest power and have a high star rating. It shows that they are efficient and will not use a lot of power.
3. Size
Once you have chosen a product, do remember to check out its size. You will find all the products in different sizes but you need to pick one keeping the number of family members in mind. If you are coming from a large family, you will need bigger appliances. Say, a sandwich toaster that only toasts two sandwiches at a time will not be useful to you as compared to one that can toast eight sandwiches in one go. Hence, consider the number of people in your family and then choose the size. Large appliances will save time and energy. But if you have a small family, you will not need a big appliance, and even a small one can do the job well.
4. Ease of Use
One more thing to keep in mind when buying an appliance is its ease of use. The product should be easy to use and safe for children or pets. When you buy water heaters or geysers, you need to ensure that they are fixed in a safe place. Even the plugs should not be anywhere close to the water faucets. All the products you consider buying should be easy to use. It may take a while for you to get used to them but they shouldn't be unnecessarily complicated.
5. Space occupancy
You must be aware of the space available to you. When buying larger appliances, you need to have an idea of how and where they will fit inside your home. If you are buying a geyser, you should consider the size of the bathroom before you choose one. You cannot have a giant geyser in a tiny bath space because it could create hazardous situations if water comes in contact with the geyser. Always look for home appliances that are proportionate to the size of the space you have. The same applies to an air conditioner or a heater in your room. If the size of the appliance is inappropriate for the available space, you will end up underutilizing the capacity of the product.
6. Cost
The appliance cost is another important factor to consider. You might be tempted to buy an appliance that is out of your budget but you shouldn't give in to the temptation. Stick to your budget at all times. The electrical appliance should have all the features with regard to its price. Remember to compare the products with other similar appliances to make the right choice.
7. Style
Another important thing to consider is the style of the product. Look for something that blends with the style and design of your home. It should be functional but also aesthetically pleasing. After all, you want something that fits in your home and also adds beauty to it.
8. Warranty
All appliances will come with a warranty and if it doesn't, you need to consider buying a home warranty. Without a warranty, you could risk buying products at a risk. The warranty will protect you in case of damages and you will not have to pay a huge amount if you need to get the product repaired. There are times when a product could even come with a manufacturing defect and it ceases to work after a few weeks. This is where a warranty will work beautifully. You can learn more about warranties at https://www.cinchhomeservices.com/faq-library/-/faq/home-warranty-versus-home-insurance/. Do not make the mistake of buying a home appliance without one.
9. Online reviews
All of us live in an age of information. We have easy and quick access to any information we may require and you can easily find reviews of your desired appliance on the internet. You will easily find videos online and you can take this as an advantage to make the right choice. Look for companies that also have an excellent reputation for their customer service. It will help you in case of any problems in the future.
10. Service plan
Some appliances need regular maintenance and offer other services too. Before you buy a product, you need to check if the appliance qualifies for a service plan and get one that comes with a plan so that you can use it for your benefit. You will also find value for money if you buy an appliance that already has a service plan.
These are the ten things you must always look out for when you are buying home appliances. Remember to compare the products and make a wise choice before you spend your money on them.