Must-Use Digital Marketing Tools Of 2022 For Automation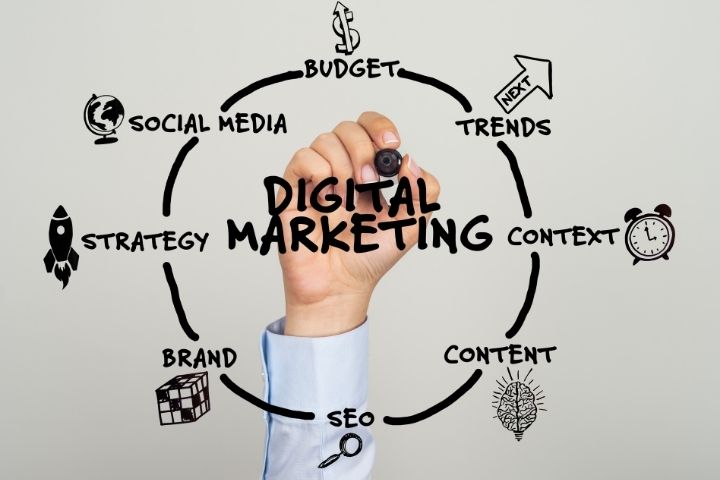 As digital marketers, one should always look at how to optimize the current processes and automate work because the entire industry is moving towards that. An excellent way to start with that is to use digital marketing tools.
There are plenty of tools available today. Right from making small SEO optimizations to running end-to-end email campaigns, there's a tool for every job.
Although, with so many options, it can get overwhelming. So if you're looking for a direction of where to get started and which tools are a must, this list is for you.
We've compiled a list of the must-have digital marketing tools along with a brief explanation of their functionality. Most of them are either free to use or definitely offer a free trial. Also, if any paid tools are mentioned, then you must take note that they're definitely worth their subscription.
Without further ado, let's quickly take a look at them.
Digital Marketing Tools To Use in 2022
Respona is an all-in-one outreach platform that includes all of the tools you'll need to set up and run an email campaign for any purpose, including link building, digital PR, marketing, and even sales.
For faster prospecting, it's connected with Google's search engine and gets metrics like Domain Rating and Ahrefs Rank directly from Ahrefs. There's also an easy-to-use email finder.
Google Search Console may help you track your site's traffic, optimize its pages, and boost its overall performance. It provides information on what Google thinks of your website.
It may be used to examine key SEO metrics such as clicks, impressions, average position, average CTR, and more. It's also used to troubleshoot technical difficulties with your website. It sends you alerts and allows you to look up issues.
You can track your return on investment with Google Analytics. More than half of website owners, or approximately 60%, utilize it to track website traffic, audience analysis, consumer behavior analysis, web errors, and conversion analysis.
You can use this tool to edit content. When you paste your material into the tool, it will underline any sentences that are grammatically incorrect, difficult to understand/read, or otherwise problematic.
You can choose the reading level of your readers, and it will make recommendations based on that.
Mailchimp is one of the most widely used email marketing platforms. It's simple to use, provides thorough analytics, is free, and aids in money generation. What's the best part? It is fully automated and features a simple user interface.
You may send customized emails to certain groups of people, as well as re-engage existing users. One of the best email marketing platforms available is Mailchimp. Start learning Mailchimp with experts today!
HubSpot is without a doubt one of the best all-in-one marketing platforms on the market today. It works with a number of companies in 65 different countries.
We mean it when we say it's an all-in-one platform. Hubspot has a lot to offer in terms of social media tracking, CRM, email marketing, data analytics, and SEO tools.
The dashboard of Sprout Social is well-known for its organization. Communications are easy to find, and posts may be easily planned. It generates precise reports that show you where you stand as a brand.
BuzzSumo is a flexible platform that can help you comprehend content ideas, track performance, and identify and find the top influencers for your company. They have a firm grasp of research-based concepts and findings.
Buffer is a social media marketing platform that can help you grow your following and manage your social media marketing. Analytics, precision marketing testing, data metrics, and post-scheduling are all aided by it.
Another unique function is cross-posting, which allows you to post to numerous sites at the same time to preserve communication synergy.
GrowMeOrganic is a sales automation and email finding application. Its inherent CRM allows you to harvest B2B and B2C emails from many verticals and send infinite drip campaigns. GrowMeOrganic, unlike other big competitors, gives you limitless credits for all of its features at a fraction of the cost of other similar programmes.
LinkedIn, B2B Enrichment, Google Map Scraper, Website Scraper, Email Finder, and Drip Campaign Automation are all possible with it.
Additional Tips
Digital marketing tools will help you reduce your costs and work smarter in your organization. But, it's not necessary that all the best tools in the industry might fulfill your needs.
There are many new tools that are emerging which provide equally good features. So don't fall for the famous ones, test different kinds and choose a tool that fulfills your requirements to the T.
An online digital marketing training is a good choice for anyone who wants to brush up on their digital marketing skills and learn the latest tools and hacks in one place.
With this, we end our informational list on the top must-use digital marketing tools. You should also read our previous article on basics and evolution of digital marketing if you're new to this industry.
Also Read : Can a Small Business Appear On Instagram?