CheckPeople Review – How Useful Are Their Background Checks?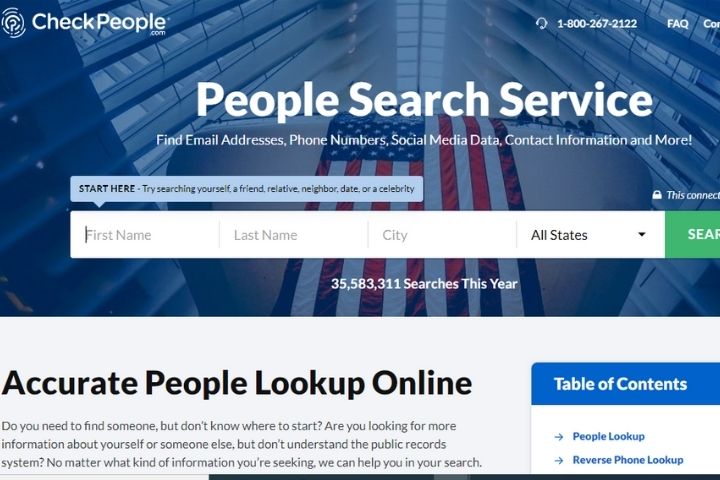 Due diligence is critical in our day and age. Whether you plan to meet an online date in real life, check out a potential new roommate, or find more information about the person who just moved in next door – there are useful tools available to help you find the information you need.
Checkpeople is a no-frills, reliable screening service that generates helpful and accurate background check reports. This Checkpeople.com review will help you see if it's the right option for your requirements.
Public Record Access
Checkpeople draws relevant information from public records, which can include any legal violations committed in the past. This can help protect you and your family, while the service is safe and anonymous.
This background check software uses the latest tracking tools, scanning countless public records at the speed of light. The data you will get on relatives, neighbors, friends, potential employees, or a new date will be accurate and reliable.
Getting Started
The search bar is at the very top of the homepage. Here, you can type in the person's full name and any other information you have about them, such as their phone number or address. This will help optimize the search. The site will show you a list of results; there can be one or more matches to the name. To access a full background check report, you need to register and sign in. The first search is free, followed by a five-day trial (which is also free).
Using Findings Compliantly
You can use the screening provider's results for personal reasons or information purposes. However, the results can't be used to check a tenant or employee's background because Checkpeople is not a consumer reporting agency. This is explained on their site. To use background information legally, your provider needs to be a CRA.
Features And Functions
Checkpeople can help you find out who's behind a phone number you get calls from now and then. Simply enter the number in the search bar and you'll get the information pertaining to the person it's registered to. Reverse phone lookup is a very useful tool because you don't want to miss important calls, but you don't want to be harassed by telemarketers or spammers, either.
The service's algorithms help scan hundreds of millions of records across the country. The provider can check for records of arrests and convictions, business affiliations, property ownership, occupational data, intellectual property assets, and more on your behalf. It will pull up old and new contact information, certificates of marriage and divorce, court documents, and birth certificates.
You might get data about someone's address history, including any and all previous addresses. The provider checks local, state, and federal databases and provides access to personal injury cases, court verdicts, small claims, and even bankruptcy filings. Last but not least, you'll find out who your search target is related to.
Many have found CheckPeople helpful in tracking down a lost family member or an old friend. The site helps by giving current information about the person's education, military history, or current job.
Deep Web Searches
The provider has many fortes, but most of the positive reviews relate to their deep web searches. If you are searching for information about an individual, their name alone is sufficient to conduct this type of search effectively. It will show social account information, any websites associated with the person, blog posts, and other things that are invisible to Google. If there's any unsavory information about your search subject available online, they will find it. Checkpeople leaves no stone unturned in their quest for information, and it's one of the most valuable resources today.
Support and Customer Service
The screening provider's clients can contact support quickly and easily, with a toll-free number and an online contact form available for clients. Moreover, you'll find their detailed FAQ section very helpful, too.
Also Read : Mac Mini 2020 Review With M1: There Is A Tiger In The Engine